Rare heart procedure saves man's life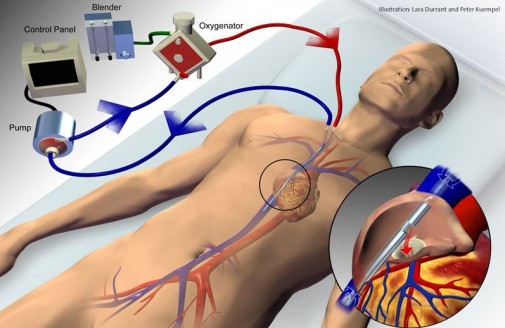 Christine Szudor will never forget the call she got from her husband in late October of last year.
Robert Szudor was complaining of chest pains and a general feeling of discomfort. Although he had no history of heart problems, they decided to err on the side of caution and head to an immediate care facility. Once there, the couple realized the situation was dire.
"It wasn't two minutes before the clinic called an ambulance," says Christine Szudor, who then, along with their adult son, followed the ambulance to Advocate Condell Medical Center in Libertyville, Ill.
Robert Szudor went into cardiac arrest while in Condell's catheterization lab during a diagnostic angiogram. To save him, doctors needed to open his blocked coronary artery, but he was too unstable. In order for Dr. Fahd Jajeh, an interventional cardiologist with Advocate Heart Institute at Advocate Condell Medical Center, to perform the vital angioplasty and stent procedure, doctors first took a rare step and put him on Extracorporeal Membrane Oxygenation (ECMO).
ECMO uses a machine to temporarily perform the work of the lungs and, sometimes, the heart. It's also referred to as Extracorporeal Life Support. When a patient is on ECMO, his or her blood circulates outside the body while the "membrane oxygenation" serves as artificial lungs, adding oxygen to the blood while removing carbon dioxide.
"By taking over heart and lung functions, it allows them to rest and recover, ensuring the patient maintains adequate oxygen," says Dr. Elliot Cohen, a pulmonologist. "When the heart or lungs have healed and are able resume their work, the ECMO is gradually removed."
Robert Szudor was then transferred to the intensive care unit.
"His heart was working at only 5 to 10 percent of what it should be, and his kidneys and lungs were not working at all," Christine Szudor says.
Doctors told her he could not stay on ECMO for an extended period of time, and it was a matter of seeing what would happen minute-by-minute and day-by-day. Each day, he seemed to show improvement.
After two weeks, Robert Szudor was weaned off a ventilator – a tracheotomy tube replaced it.
Robert Szudor says he doesn't remember anything that happened in the month after his heart attack. Among his first memories was learning of the heroic efforts to save his life.
"I learned that Dr. Cohen had assembled a team of specialists including Dr. Jajeh and Dr. Robert Kummerer, a cardiovascular surgeon," Robert Szudor says. "They hooked me up to an ECMO machine. [At one time] I asked Dr. Cohen if I'd had one foot in the grave. He said 'No, you had both feet in the grave.'"
After Robert Szudor was discharged, he was transferred to a rehabilitation facility. He returned to Condell to have an defibrillator implanted to stop his heart from racing. Soon after he was back at home, where he continues to improve.
"If not for the ECMO team of physicians at Condell, Robert would not be here right now," his wife says. "They not only kept him alive, but also gave him his life back. Without their dedication and expertise, there would have been no hope. The ICU team, all the nurses, everyone at Condell did all they could to help him. They amazed us."
Picture Credit: Journal of the American College of Cardiology
Related Posts
Comments
About the Author
health enews staff is a group of experienced writers from our Advocate Aurora Health sites, which also includes freelance or intern writers.