10 superfoods to add to your diet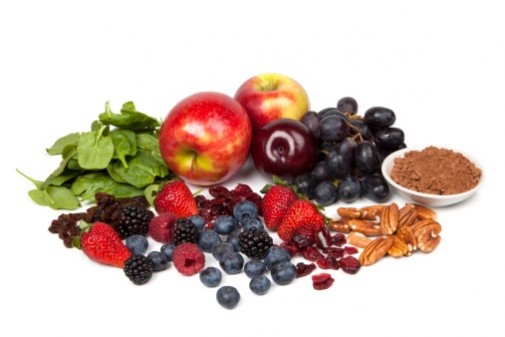 Superfoods are common food items found in the grocery store, but did you know the power they can add to your diet?
According to Barbara Fine, registered dietitian at Advocate Lutheran General Hospital in Park Ridge Ill., superfoods are foods that are nutrient-dense, meaning they contain high volumes of protein, vitamins, minerals and fiber in each portion.
It's easy to add these foods into your diet to help fuel and replenish for workouts, she adds.
Check out these 10 superfoods:

1. Broccoli
This is one of nature's most nutrient-filled foods, with only 30 calories per cup. Eating broccoli can help curb snacking due to its hunger-curbing fiber and polyphenols antioxidants.
"Broccoli is a great superfood that contains fiber and antioxidants that detoxify damaging chemicals in the body," Fine says.
2. Apples
An apple has less than 50 calories, but it supplies the body with fiber, vitamin C, potassium and antioxidants. The American Heart Association recommends nine servings of fruits and vegetables a day, so add some apple slices to your next meal.
3. Blueberries
This is one powerful fruit that can do everything from fighting cancer to lowering cholesterol.
"Blueberries contain antioxidants and phytonutrients," Fine says. "Ways you can incorporate blueberries into your diet include adding them into your yogurt, your next smoothie, or eating them alone as a snack.
4. Salmon
This is one of the most heart-healthy foods with studies showing significantly lower risk of heart disease for people who eat this fish.
"Salmon contains omega-3 fatty acids, which decrease inflammation and slows the rate of plaque buildup, plus the benefit of being a source of lean protein," she says.
5. Eggs
Breakfast is the most important meal of the day and can result in keeping your hunger at bay with a high protein option.
According to a study published in the Journal of Nutrition and Food Science, researchers discovered that, despite being low in calories, eggs are a rich source of protein and are packed with essential nutrients thought vital to good health, particularly vitamin D, vitamin B12, selenium and choline.
6. Quinoa
This popular whole-grain superfood contains loads of protein. Whole grain foods help fill you up, resulting in consuming fewer calories.
7. Beans
Black, kidney, white and chickpeas all qualify as a superfood due to their fiber and protein. According to American Diabetes Association, beans are considered starchy vegetables, but half a cup provides as much protein as an ounce of meat without the saturated fat.
8. Dark chocolate
If you are going to indulge in a sweet, this is the one to pick due to its heart benefits. According to the American Heart Association, "One study showed dark chocolate was associated with lower heart risk failure."
9. Spinach
This superfood is high in iron, which is beneficial since it fuels muscles with oxygen for energy. According to Medical News Today's Knowledge Center, the possible health benefits of consuming spinach include improving blood glucose control in diabetics, lowering the risk of cancer, lowering blood pressure, improving bone health, lowering the risk of developing asthma and more. This extra power can be achieved by adding spinach to a smoothie, eating cooked spinach, or substituting lettuce with spinach in your salad.
10. Asparagus
When compared to all vegetables, asparagus contains the highest percentage of folate in addition to numerous vitamins and minerals, making it a healthy choice for any diet, according to the California Asparagus Commission.
Folate is a vitamin B that helps the synthesis of neurotransmitters. Balancing your mood is also crucial so try this superfood as a serving of veggies on your plate.
Now that you know what to look for, Fine says you can easily buy these items in your regular grocery or produce store.
Related Posts
Comments
About the Author
health enews staff is a group of experienced writers from our Advocate Aurora Health sites, which also includes freelance or intern writers.