Middle-aged athletes at low risk for sudden cardiac arrest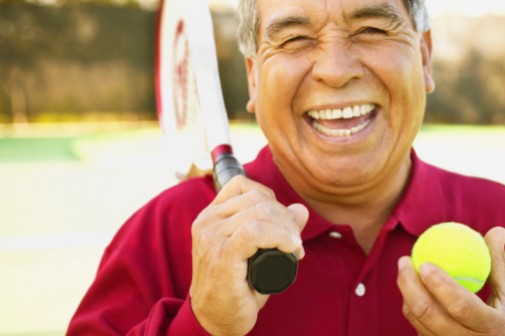 A new study eliminated one more excuse for people trying to avoid exercise – middle-aged adults are at very low risk for sudden cardiac arrest during physical activity.
Detailed analysis of more than 1,200 cases of sudden cardiac arrest involving middle-aged men and women (35 to 65 years old) revealed that only 5 percent were associated with sports and exercise activities.  More than 25 percent of the cardiac arrests took place while jogging. Basketball and cycling accounted for less than one in five sports-related arrests.
"This is more compelling evidence that the advantages of exercise and physical activity far outweigh the negatives, even as we age," says Dr. Ajay Parikh, cardiologist affiliated with the Advocate Heart Institute at Advocate South Suburban Hospital in Hazel Crest, Ill. "In general, people need not limit their sports and exercise for fear of a sudden cardiac arrest."
Cardiac arrest is not a heart attack. Cardiac arrest or sudden cardiac death is triggered by an electrical malfunction in the heart that causes an irregular heartbeat (arrhythmia), leading to the heart not being able to pump blood to the brain, lungs and other organs. A heart attack occurs when a blocked artery prevents oxygen-rich blood from reaching a section of the heart.
The study found that many of the sudden cardiac arrests that did occur didn't happen without warning.  More than 33 percent of people who experienced arrests had symptoms of heart disease, such as chest pain or breathlessness, in the week before their heart stopped, and more than 50 percent had risk factors for heart disease.
"Even people who are active need to be aware of the signs and symptoms of heart trouble, as well as the risk factors," says Dr. Parikh. "In middle-age, people need to work with their physicians to develop a plan, including appropriate physical activity, to maintain health and wellness."
Nearly 90 percent of sports-related cardiac arrests were witnessed, often because they occurred at a gym or other public place. This is in contrast to roughly half of those events that occurred at other times or places.
Sports participants also were more likely to receive CPR, which increases chances of survival.
Related Posts
Comments
About the Author
Nate Llewellyn, health enews contributor, is a manager of public affairs at Advocate Medical Group. Nate began his career as a journalist and builds daily on his nearly 20 years of writing experience. He spends most of his free time following his wife to their two sons' various activities.