Foot sores can be more deadly than cancer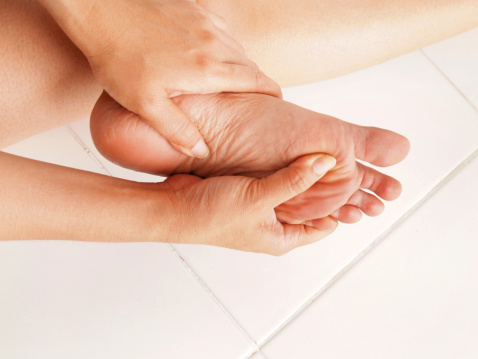 A small misstep while walking can result in a cut, sore or foot injury. For most, they aren't a cause for concern, but for people with diabetes, these sores can be deadly.
Diabetes affects both blood circulation and nerves. This could cause a simple sore on the foot of a diabetic patient who has lost sensation due to nerve destruction to become "more deadly than breast cancer, prostate cancer and lymphoma combined," says Dr. John Grady a podiatric surgeon at Advocate Christ Medical Center in Oak Lawn, Ill.
"Without sensation, the patient feels no pain when skin breaks down at certain pressure points on the foot – like the top of a toe rubbing against the inside of a shoe," says Dr. Grady. "Eventually, the skin can be worn to the bone, with the resulting wound leading to loss of all or part of the foot or becoming so overwhelmingly infected that a patient's life is endangered."
To prevent or minimize the risk of such complications, Dr. Grady suggests patients perform daily self-assessments of their feet. Check blood circulation by squeezing a toe between two fingers until the skin of the toe turns white, and then releasing the toe to determine when redness (blood) returns to the area that has been squeezed.
To evaluate the nerves in the foot, use a small instrument known as a Semmes Weinstein monofilament. The device consists of a nylon wire that is bowed against the skin in a C-shape.
"If the patient is unable to feel the pressure of the wire against the skin, this lack of sensation may indicate the nerves are degenerating," Dr. Grady says.
Because the disorder is so common, people diagnosed with diabetes often fail to take it seriously enough until complications occur, including foot sores and infections, Dr. Grady adds.
Adding to the risks are the kinds of foot deformities that develop when a patient's nerves become impacted by diabetes.
"Diabetes even can contribute to a loss of padding on the bottom of the foot, reducing the amount of available cushioning during walking and other activities," he says.
Special shoes and surgical options are available to correct – or, at least, accommodate – foot problems related to diabetes, but the best medicine is usually prevention, Dr. Grady said.
Careful management of the disease doesn't guarantee a patient will completely avoid complications, but problems like the early development of ulcers caused by friction or rubbing on the foot can be caught and treated early.
"At the very least, people with diabetes should be checking their feet daily," Dr. Grady advises. "This type of self-evaluation is necessary if a patient is to avoid loss of a foot or worse – a deadly infection."
Related Posts
Comments
About the Author
health enews staff is a group of experienced writers from our Advocate Aurora Health sites, which also includes freelance or intern writers.