From breast cancer patient to volunteer and advocate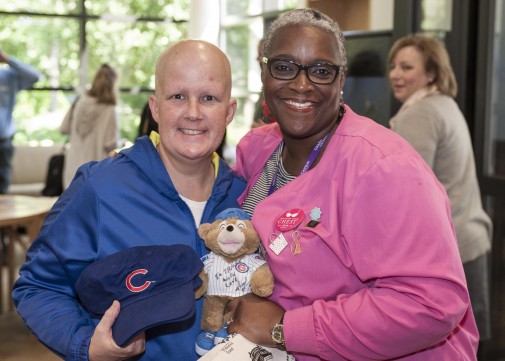 My name is Tracey Stills and I am a Breast Cancer Survivor.
Thirteen years ago I was diagnosed with breast cancer. After two surgeries, eight rounds of chemotherapy, 33 rounds of radiation and a year of Herceptin, I have been cancer free for 13 years and counting!
Two years after my therapy I started working at Advocate Good Samaritan Hospital in Downers Grove, Ill. as a radiation oncology analyst. Daily I encountered many women who were afraid, helpless, unsure and confused of the diagnoses of cancer.
That's when I started my journey with the American Cancer Society (ACS) by becoming the coordinator of the Look Good Feel Better Program. The program is free and was created to help individuals with cancer look good and feel their best. As a patient who experienced being bald with a loss of lashes and eyebrows, there literally were times I'd look at myself in the mirror and notice my head and buttocks had a contest going as to who was going to look the best on any given day. The program also gives women the courage to still feel a part of society without shame. Along with this program, I am also a proud Regional Board member of the DuPage County American Cancer Society.
And I began loving my journey.
While working with the Look Good Feel Better Program I was asked to work with the Reach to Recovery program. For more than 50 years, this ACS program has helped both females and males cope with their breast cancer experience. This program allows the patient to call a person who has shared the same experiences and never allows him or her to feel alone.
I was asked to join the ACS' Volunteer Council of the Regional Board where my journey has become much less about me, but a journey for others.
I encourage everyone to be their own advocate as well as advocates for others. This year alone, the ACS predicts more than 234,000 people will be diagnosed with breast cancer and that close to 41,000 men and women will lose their lives to the disease. In Illinois, more than 9,500 women will be diagnosed with breast cancer this year, and more than 1,600 lives will be lost. We need to fight this disease together by asking questions and getting all the answers we need.
I've made it my mission to continue to strive in this journey and never leave any one behind as they start theirs.
That's why I'm proud to be the Mission Chair for the American Cancer Society Walk & Roll on Saturday, April 25, 2015 beginning at Soldier Field in Chicago. Will you join me? Click here to register on Advocate Health Care's team or to make a donation to help others on their journey.
Related Posts
Comments
About the Author