10 exercises to do at your desk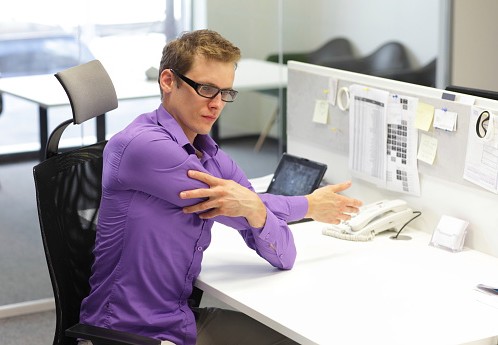 Several recent studies have shed light on the harmful effects of sitting.
While this might be a little unsettling for those who work a "desk job," here are 10 ways to get in a bit of exercise while at the office.
"Movement is essential if you want to avoid poor circulation, greater weight gain and loss of lean body mass," says Steve Gasser, fitness specialist at the Good Samaritan Health and Wellness Center in Downers Grove, Ill.
Gasser offers these ideas:
Move every 60 minutes – Go to the bathroom, copy machine, or refrigerator to pick-up your lunch or stop by a co-workers desk to chat.
Seated march – While you are sitting down, do a simple march right in your chair every 30 to 45 minutes.
Ankle circles, foot pumps – Try anything to get the lower leg circulation of the veins moving.
Shoulder rolls – Do a few forward and then backwards.
Upper body – Push both hands out away from your body, pull back your hands and then push them up toward ceiling and back down for one repetition. Repeat 10 times.
Core exercise – Sit in the front third of a chair, keep your torso tall and abdominal muscles pulled in, and lift one foot off the ground and hold for 30 seconds. Repeat on the other side.
One foot up and hold – Stand up and raise your leg as if you were marching but actually hold that leg up in place for 30 seconds. Switch to other side.
Chair sit up – Sitting in upper third of chair, keeping abdominals tight and shoulders relaxed. Roll back while keeping abdominals tight and almost touching back of chair. Slowly bring your body back up to rounded position.
Twist –Sitting in upper third of chair and cross your arms on your chest.  Slowly twist to the side staying up right and slow.  Then twist to the other side slowly to complete one repetition. Try this 10 to 15 times.
Use your imagination – The main thing is to move a little.
Related Posts
Comments
About the Author
health enews staff is a group of experienced writers from our Advocate Aurora Health sites, which also includes freelance or intern writers.