4 tips to prevent golf injuries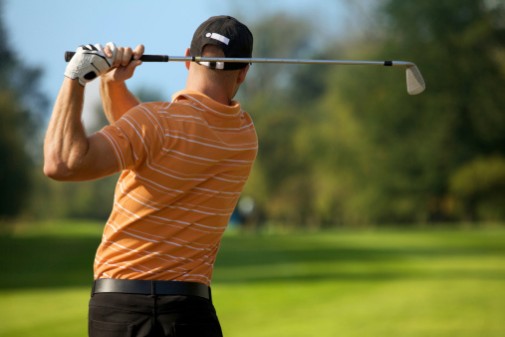 This year's Masters golf tournament featured one of the most dominating golf victories by Jordan Speith, who is now travelling the talk show circuit wearing his green jacket.
Another storyline was the resurgence of Tiger Woods, who for a few rounds appeared on his way back to being a major championship contender until another injury setback, occurring when he hit his golf club on a tree root on the 9th hole of the final round.  The pain in his wrist caused some distress and discomfort, but he seemed to overcome the injury and eventually finish the final round.
Although golf is not known as an injury-prone sport like football, wrestling or soccer, it does have its share of injuries.
As one golf pro told me, "Bad things happen when you hit the big ball [earth], before hitting the small ball."
Common golf injuries include back sprains and strains, rotator cuff tears, and elbow and wrist tendonitis. Knee injuries also occur from more aggressive golf swings.
For me, most of the time, the only thing that hurts when I hit a golf ball is my ego. Instead of going into detail about a variety of injuries and conditions, I wanted to share four tips to prevent golf injuries:
Stay in shape during the offseason, and this doesn't require buying a $50,000 computerized golf trainer. Instead try some general fitness – aerobic exercise, light weight lifting, swimming and stretching can prevent injuries during the golf season. Many golf magazines publish "golf workouts," and Golf Digest recently featured a fitness and power issue.
During golf season, it is important to arrive early before your round of golf. Take a few minutes to walk and stretch on the driving range. You should try to hit 30 to 50 balls prior to the round, which includes iron shots, drives, pitches and putts. If you have the fitness level, try to walk at least nine holes of the course. Resist the temptation to skip the warmup and the old "grip it and rip it" technique.
Another way to prevent injury – and improve your score – is to work with a PGA golf professional to master the body mechanics and proper techniques for a golf swing.
Finally, if your golf ball is sitting on concrete, tree roots and rocks, among other things, I am officially giving you an orthopedic surgeon "safety drop."
Most of us are not playing for a green jacket, so it's OK to play smart.
Related Posts
Comments
About the Author
Dr. Jeffrey Kazaglis is an orthopedic surgeon on staff at Elgin-based Advocate Sherman Hospital who completed 22 years of military service. Dr. Kazaglis specializes in general orthopedics, fracture care, hand surgery, sports medicine, joint reconstruction and arthroscopic surgery of the hip, knee, ankle, shoulder, elbow and wrist. He lectures extensively on knee and shoulder problems with a focus on sports injuries.