From heart surgery to hustling up the Hancock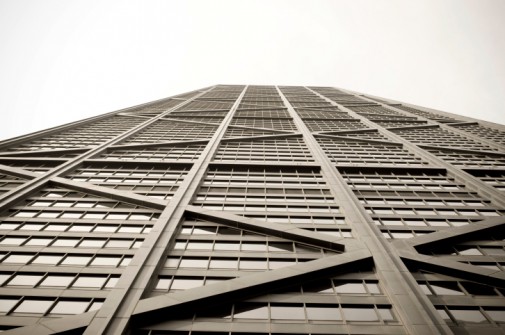 Heart surgery turned Joe Casey into a bit of a fitness fanatic.
After undergoing aortic valve replacement surgery last April at Advocate Condell Medical Center in Libertyville, Ill., Casey participated in a cardiac rehabilitation program, but didn't stop when the 12-week program ended. Instead, he took his fitness to the next level.
"I needed to decide whether my general fitness would recede, be maintained or improve," says Casey. "I chose the latter."
Casey joined Advocate Condell Centre Club in Gurnee, Ill., with a goal of getting in good enough shape to participate in the Hustle Up the Hancock just six months later. His trainer, Nancy Witt, helped him develop a plan to improve his overall fitness, and he worked hard to reach his goal.
Witt says the plan she developed focused on the parts of his body that needed to be strong for the 1,632-step climb up the Hancock.
He started on a step mill three days a week for 5 to 8 minutes. Gradually, as he felt more comfortable, he increased the rate of speed and length of time. He also incorporated a senior cardio class and a senior strength class into his routine. Those two classes improved balance, core and muscle strength. After a few months, Casey was on the step mill for more than 30 minutes at a time.
"She really pu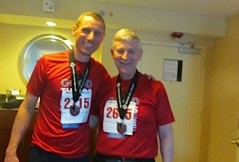 t together a good plan that worked great for me," the 67-year-old says.
This February, one day before the 10-month anniversary of his surgery, Casey successfully completed the event alongside his son Tim, climbing 94 floors in 50 minutes and 23 seconds.
"One person made the climb in less than 10 minutes, and others have taken well over two hours," says Casey. "My goal was to complete the full climb within an hour, and I did it."
After the climb, Casey visited the doctors who helped him along the way, including Dr. Robert Kummerer, his cardiovascular surgeon at Advocate Condell Medical Center. Casey asked him and the others to sign his Hustle Up the Hancock T-shirt.
Dr. Kummerer says he was thrilled to do it.
"It's so rewarding to have a patient do so well," says Dr. Kummerer. "It's very gratifying."
Witt says Casey's idea of setting a goal was smart because it makes you more likely to stick to a fitness program.
"He was very determined, dedicated and committed to his training," says Witt. "I am so proud of him. He's an inspiration to me."
Click here to learn more about Joe Casey's story and his motivation to Hustle Up the Hancock.
Related Posts
Comments
About the Author
Kathleen Troher, health enews contributor, is manager of public affairs and marketing at Advocate Good Sheperd Hospital in Barrington. She has more than 20 years of journalism experience, with her primary focus in the newspaper and magazine industry. Kathleen graduated from Columbia College in Chicago, earning her degree in journalism with an emphasis on science writing and broadcasting. She loves to travel with her husband, Ross. They share their home with a sweet Samoyed named Maggie.