Weight Watchers chef shares his personal story of weight loss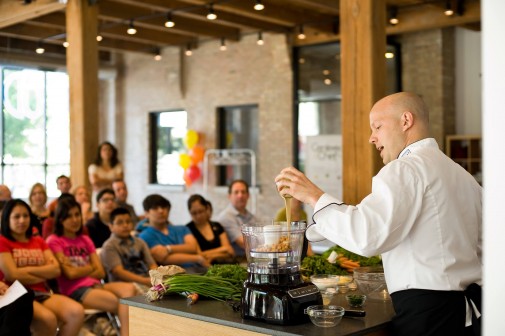 Ryan Hutmacher has appeared on nearly every television network, rising to stardom on ABC's "The Chew," a nationally televised cooking contest to find the new Weight Watchers chef.
Today, Hutmacher is the co-founder of Centered Chef, and recently was named "The New Face of Healthy Cooking," with clean, simple and a sexy cooking style winning him acclaim.
"Clean stands for fresh ingredients," says Hutmacher. "Simple represents recipes with five to seven ingredients. What you see is what you get. And, sexy, that's how I showcase food, since we eat with our eyes."
But, his cooking style and culinary school were not even a thought a decade ago in his physician's office when he was diagnosed with weight gain, high blood pressure, cholesterol and concern over pre-diabetes.
Instead, Hutmacher committed himself to changing and to reinventing himself.
"It wasn't just about food and eating too much," Hutmacher says. "I needed to align my passions with my goals and behaviors."
And Hutmacher did change — in a big way.
"I went from being winded in tying my shoes, to finishing a triathlon and an iron man competition," he says. "It did not happen overnight; there is no magic pill. I also embraced culinary school. I took my love of food and made it my career passion."
Hutmacher offers this advice to those trying to lose weight:
Quit beating yourself up about your weight. Instead, surround yourself with people who will support and hold you accountable for the changes you want to make.
Reach out to others who have similar interests; for example, join a running group, if you want to run or Overeaters Anonymous, if you need help with overeating.
Make a list and prioritize what matters to you. Ask yourself if the decisions you make every day, support that list?
Hutchmacher is the guest speaker for Women's Night Out, a program at Advocate Lutheran General Hospital on May 14. For more information or to register, click here.
Related Posts
Comments
About the Author
Evonne Woloshyn, health enews contributor, is director of public affairs at Advocate Children's Hospital. Evonne began her career as an anchor and reporter in broadcast news. Over the past 20 years, she has worked in health care marketing in both Ohio and Illinois. Evonne loves to travel, spend time with family and is an avid Pittsburgh Steelers fan!