The sun WILL come out tomorrow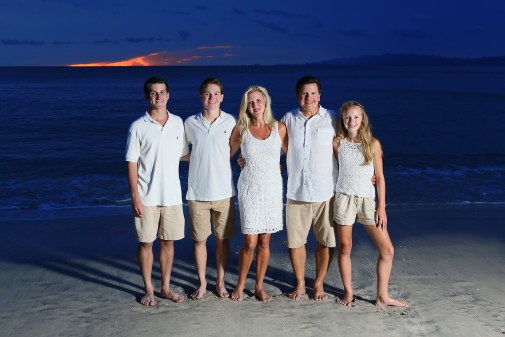 It is so unimaginable that nearly seven months have gone by since my oldest son was diagnosed with cancer. And when I last shared my story – my world had turned a dingy dark heavy gray. Today the clouds are slowly inching apart and bright rays of glorious sunshine are beginning to peak through.
Looking back I didn't fully appreciate how amazing last summer was. My son had just completed his junior year of college and our entire family spent a magnificent 10-day vacation basking in the sun and enjoying an assortment of outdoor activities together.
While at the time it seemed like my son's pockets of complaints about back pain were just a result of ambitious physical excursions – in hindsight my attempts to ease his pain with my makeshift heating pad by warming a towel in a microwave seems so unfitting for what my son had begun to experience.
It was just some six weeks after our family bonding trip that we learned my son's increasingly unbearable back pain was in fact a rare form of bone cancer. As the mother of a child diagnosed with cancer, I found myself plagued with two relentlessly painstaking all-consuming thoughts.
First – why can't it be me? I would take this on in a heartbeat — if only I could.
Second – why didn't I do more, sooner? I should have recognized the pain to be more than a pulled muscle, why didn't I force him to go for more tests sooner – how could I have let this happen?
But quickly I have learned that spending any time in these dark places does nothing to benefit my child. It is through watching his strength that I am able to collect myself and focus on the fight – the cure – the life I know awaits him beyond the cancer.
While I would be dishonest if I did not share that at times I find myself slowly slipping back into the darkness – it is a conscious choice that I make daily to focus on the sunlight – any and every ounce of light I can find.
And here comes the sun.
After nearly seven months of bi-weekly inpatient chemotherapy treatments, a nearly 7-hour surgery and 28-nightly cycles of radiation – we are just two months away from completing this aggressive treatment regimen.
Despite the nearly 60 days we have spent inpatient and the countless days of dreadful sickness – my son has found the spirit and fortitude to conquer so very much.
He graduated from college, he has been working part-time, he has played pond hockey and snowboarded. He has made several trips back to his alma mater and spent hours at his brother and sister's activities cheering them on. As he is preparing for the end of the treatment cycle – he recently moved into his first apartment in the city.
As it is often when sunlight begins to break through the clouds – there are multiple dynamic rays warming all that lies below.
First, the glorious end of treatment – not only the freedom from packing bags and spending up to six days at a time in the hospital – but release from the extreme chemicals that although are magnificent in their ability to kill cancer cells, also take a dreadful toll.
Next, the amazing clinicians and their healing hands are bright and sincere rays of light that have provided us with hope and confidence in the healing underway. My 16-year-old son and 13-year-old daughter also continue to be beacons of light with their unwavering support of their brother and their selfless understanding of the re-prioritization that has occurred in our lives.
And while the heartfelt rays of light of our steadfast faith along with our supportive friends and family are brightly guiding us through this dark journey – it is the blinding positive spirit of my son who truly amazes me and others.
So, as we embark on the final treatments of this long journey – we are lifted by our new found rays of sunlight. The road ahead is bright and happy indeed.
Hug your kids, cherish your sunshine.
Related Posts
Comments
About the Author
Kelly Jo Golson, contributor to health enews, is chief marketing officer for Advocate Aurora Health.