Pollution exposure increases risk of allergies in kids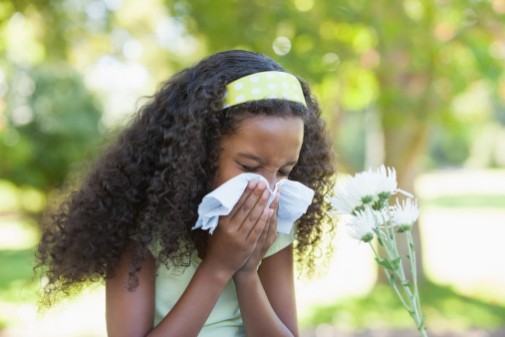 New research suggests early exposure to traffic-related air pollution increases a child's risk of developing allergies.
The study from researchers at the School of Population and Public Health at the University of British Columbia used data from nearly 2,500 children across Canada. Children were tested for 10 different allergens, including inhalants and food-related allergens.
The results demonstrated a link between air pollution and the onset of allergies in a baby's first year.
"These results support the existing literature that shows there is an increased risk of sensitization to pollen and food allergens in children with early exposure to air pollution," says Dr. Pitud Rangsithienchai, allergist and immunologist on staff at Advocate South Suburban Hospital in Hazel Crest, Ill. "This is concerning as our cities continue to grow and more and more children are being raised in urban environments. Preventive care is key to good health, but environmental factors at the community level unfortunately are not something a parent can necessarily control."
The researchers also found that having furry pets, being in daycare and having an older sibling were linked to lower rates of allergies. The findings join other recent research that suggests early exposure to common allergens like peanuts and dust may help prevent allergies from developing.
The study did not find a link between mothers' exposure to traffic-related air pollution in pregnancy and allergy risk in their children.
"Allergies are a growing problem for children in the U.S.," Dr. Rangsithienchai says. "Development of allergies depends on a complex interplay between an individual's genetic makeup and his or her environmental exposures. Studies like this one are important, as they bring us one step closer to learning what causes allergies so we can treat them and hopefully work to prevent them."
Dr. Rangsithienchai offers fours tips for identifying allergies:
Watch for symptoms like itchy, watery eyes, itchy or clogged ears, sneezing, runny or stuffy nose, postnasal drip, scratchy (not sore) throat, recurrent cough, rash or hives.
Take note of the timing of symptoms. Seasonal allergies recur every season (e.g. spring, fall), while other allergies may show up when exposed to triggers like pet dander.
Duration of symptoms may also be a clue. Allergy symptoms tend to be present when triggers are around and go away once the triggers are gone.
Don't hesitate to seek medical help if you think your child may be developing allergies. Board-certified allergists can help determine what the child is allergic to and help manage it safely.
Related Posts
Comments
About the Author
health enews staff is a group of experienced writers from our Advocate Health Care and Aurora Health Care sites, which also includes freelance or intern writers.