Don't be a 'bridezilla' on your wedding day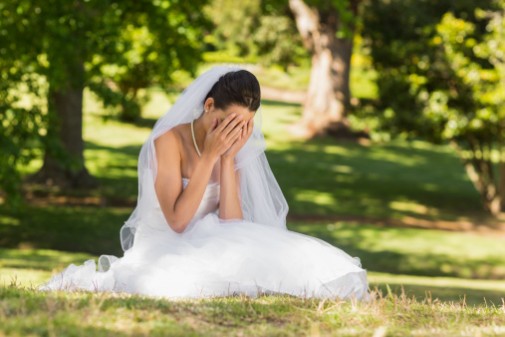 Some brides-to-be turn into "bridezillas" as their wedding day approaches.
With wedding season just around the corner, Dr. Rani Sharma, an Advocate Medical Group internal medicine physician with Advocate Condell Medical Center in Libertyville, Ill., has advice to help keep emotions under control. This is especially important because that added stress can increase the risk of conditions such as obesity, heart disease, diabetes, anxiety and depression.
"Nine times out of 10, it's all about stress," Dr. Sharma says. "This is a special day, and the bride wants it to be perfect, but sometimes the more she focuses on the day being perfect, the more stressed she becomes, and then it's a vicious cycle."
Here are five simple ways to stress less about the big day:
1. Take the edge off with exercise
Dr. Sharma says when all the planning and preparation become overwhelming, release some energy by going for a brisk walk or running a mile or two if that's more your speed. To relax, try yoga or tai chi.
2. Eat nutritious foods
Too often brides-to-be are not eating well, either because they're dieting to squeeze into their wedding dress or they're stress eating high calories foods with low nutritional value. Making poor food choices just exacerbates that overall unhealthy feeling caused by stress.
"Plan ahead," says Dr. Sharma. "Don't get caught eating the wrong foods because you have nothing in the house but chips and cookies. Realize that planning the wedding is going to throw your schedule off, so have fruits and veggies available to snack on. Pack lunches so you're not running out to grab fast food between work and all those wedding-related appointments."
3. Listen to your body
If stress is getting the better of you, it is OK to cancel a girls' night out in order to catch up on some sleep. It's also OK to let go of your notion that your wedding must be perfect.
4. Be kind to yourself
"Give yourself permission to focus on your own well-being," Dr. Sharma says, adding that sometimes the best gift we can give ourselves is the gift of acceptance.
5. Don't be a perfectionist
"Once you stop focusing on perfection, you can focus on what's really important – marrying the person you love," Dr. Sharma says.
Related Posts
Comments
About the Author
Kathleen Troher, health enews contributor, is manager of public affairs and marketing at Advocate Good Sheperd Hospital in Barrington. She has more than 20 years of journalism experience, with her primary focus in the newspaper and magazine industry. Kathleen graduated from Columbia College in Chicago, earning her degree in journalism with an emphasis on science writing and broadcasting. She loves to travel with her husband, Ross. They share their home with a sweet Samoyed named Maggie.