The importance of play for adults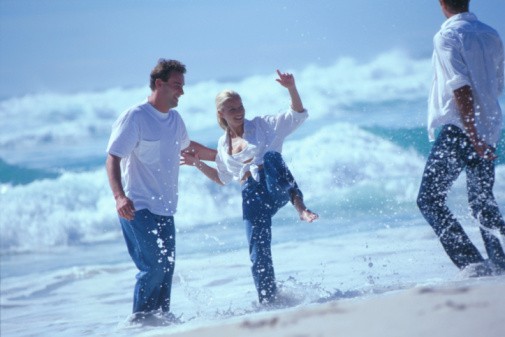 Play is something adults don't do enough of. Between work, relationships and other responsibilities, the seriousness of life often takes over and play gets pushed to the bottom of the barrel. Some may look at play as something just for children, but adults can benefit from it in many of the same ways.
Play can be a source of relaxation and stimulation, but it also helps our mental health. Adult play is a time to set aside work and responsibilities and allow oneself to be social in an unstructured, creative way. The goal is to focus on the experience of having fun, not accomplishing a specific goal.
One benefit to play is that it helps alleviate stress. When engaged in play, our bodies release endorphins, which are our feel-good chemicals. When these chemicals are released, it helps boost our sense of well-being.
Using play to strengthen your relationships
Sharing fun and laughter with your loved ones helps foster compassion, trust and intimacy and can help keep relationships exciting, joyful and resilient. Being playful can help ease tension between romantic partners and enhance connections with our peers, friends and family members.
Play help children develop social skills, but it also helps adults as we continue to refine these skills through playful interactions with others. Play in adulthood can strengthen personal bonds and help people in overcoming differences and small aggravations that build up over time.
In life's most difficult times, it's more important than ever to make time for play and laughter. There is some truth in the saying "laughter is the best medicine."
Play in your professional life
Some companies have taken play one step further and incorporated play into the workplace. They encourage play and creativity by offering games, puzzles and creative tools for employees to engage with. In return, coworkers' bonds are stronger, productivity is enhanced, employees report higher job satisfaction and higher workplace morale. Employers enjoy a decrease in turnover and absenteeism.
Our success at work depends on our quality of work, which is heavily influenced by our personal well-being. Puzzles and other fun activities that challenge the brain can help prevent memory problems and stimulate creative thinking. Play also enhances problem solving, helps us function better under stress, decreases the risk of professional burn-out and helps encourages cooperation among coworkers.
Summer Fun
There are countless ways to incorporate play into your life, especially when the weather is nice! Here are some suggestions of fun activities to do alone or with a partner:
Join a casual sports team. Check your local park district for details. Many offer intramural softball or sand volleyball. Park district programs tend to be affordable, low-key and open to all skill levels.
Put on your hiking boots. A long quiet stroll through the woods is a great way to unwind.
Organize a game night. Pick a favorite card game like Euchre or Spades, or break out a classic board game like Monopoly. This can be especially fun on a rainy day.
Host a barbecue. Set up some outdoor games like beanbags and horseshoes or find a fun game on Pinterest like backyard Twister.
It's never too late to develop your playful side. Play is for people of all ages, although adults tend to let things like self-consciousness or a fear of rejection get in the way. It's important to remember how easily play came to you as a child. So embrace your inner child, let down your guard, and have a good time.
Related Posts
Comments
About the Author
Deborah Fields is a Licensed Clinical Professional Counselor with Advocate's Family Care Network facility. She also is an Advocate Employee Assistance Counselor for South Suburban and Trinity Hospitals. Deborah has been in the behavioral health field for 21 years. In her leisure, she enjoys NHRA's drag racing events, football, attending concert events, the creative arts and is faithful to healthy eating and adequate exercise.