Kids need to wear sunglasses too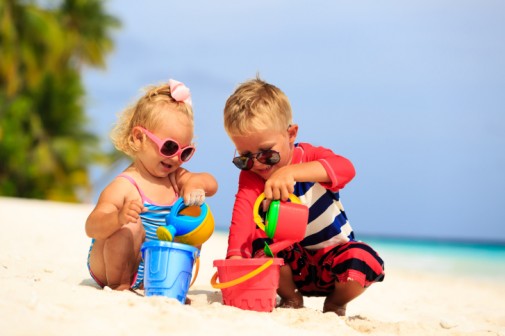 To protect their kids' skin from the rays of the sun, parents are quick to cover them with sunscreen and throw wide-brimmed hats on their heads before heading outside. But, oftentimes the sunglasses are forgotten, leaving the eyes exposed to the harmful rays.
Leaving eye protection out of this equation is a big mistake, says Dr. Sam Multack, an ophthalmologist at Advocate South Suburban Hospital in Hazel Crest, Ill.
"Kids definitely should wear sunglasses as much as possible when they are outside in the sun," says Dr. Multack. "Protecting young eyes from the damaging rays of the sun can prevent many eye issues later in life."
Children under age 10 are at a high risk for skin and eye damage from ultraviolet radiation (UVR), the most dangerous sun rays, according to the American Academy of Pediatrics. UVR is responsible for many eye-related issues, including "snow blindness," cataracts, macular degeneration and eye cancer.
Dr. Multack says that there is no hard evidence that young eyes are more vulnerable to UVR than adult eyes, but it's the cumulative negative effects that make sunglasses so important for kids.
"A lot of sun exposure happens when we are children, outside in direct sunlight," he says. "And, UV ray damage builds up, so the sooner parents start protecting their kids' eyes from the sun, the better."
Children younger than 6 months should be kept out of direct sunlight completely after that, and wear sunglasses if they are going to spend significant time outside in the sun.
"It's important that parents help kids develop the habit of wearing sunglasses," says Dr. Multack. "Protecting their eyes and their vision should be a given, something they do regularly for their entire lives."
For parents shopping for sunglasses, Dr. Multack recommends these tips from the Skin Cancer Foundation:
Find glasses that block 99 to 100 percent of both UVA and UVB rays. Purchase ones that indicate the percentage of UVR protection they provide. The more skin covered, the better, so look for large, wraparound styles.
Use playground-proof lenses. Kids run, trip and fall. Their sunglasses should match this active lifestyle. Find impact-resistant, scratch-proof lenses that do not pop out of the frames. Avoid glass lenses, unless recommended by a doctor. Plastic is safer. Frames should be bendable, but unbreakable. Make sure the glasses fit snugly, close to the face.
Let them choose. Children – especially older kids and teens – are likelier to actually wear sunglasses if they select the style them themselves.
Eyeball the glasses. Check to see that lenses are not scratched or warped and have no other flaws that distort vision. Very young children may not know to complain if the glasses are flawed, so it's up to you to check before buying.
Double Up. Sunglasses block only rays that come directly through the lenses. The skin around the eyes remains vulnerable to rays entering though the sides or from the top, or reflected upwards off snow, sand, water, etc. Wearing a wide-brimmed hat is a good backup, blocking out many rays from above and even from the sides, while also shielding the face and neck. Seeking shade during the sun's most intense hours, 10 a.m. to 4 p.m., provides another level of protection.
Related Posts
Comments
About the Author
Nate Llewellyn, health enews contributor, is a manager of public affairs at Advocate Medical Group. Nate began his career as a journalist and builds daily on his nearly 20 years of writing experience. He spends most of his free time following his wife to their two sons' various activities.