Those with diabetes have higher risk of bone breaks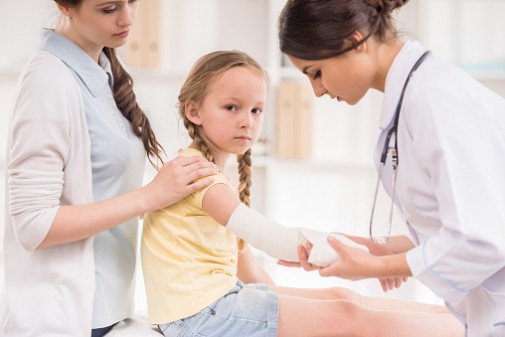 A new study suggests that as children living with Type 1 diabetes grow up, they may be at an increased risk of breaking a bone during their lifespan.
The data collected on more than 30,000 people living with Type 1 diabetes, ranging in ages from 0 to 89 years old, showed an increased risk for fractures compared to non-diabetics.
For years, researchers and physicians have been aware that people with Type 1 diabetes have lower bone mineral density (BMD), which can lead to conditions such as osteoporosis. This new research ties Type 1 diabetes directly to fractures in the young and old.
Researchers found that 19.6 percent of Type 1 diabetes patients had a history of broken bones compared to 17 percent of a control group of 300,000 non-diabetics.
Similarly, 8.6 percent of diabetic participants had experienced incidental fractures – those caused by disease that led to weakness of the bone structure – compared to 6.1 percent of the control group.
"The percentage difference between the two research groups doesn't sound huge," says Dr. Varsha Bhan, internal medicine specialist and medical director of the Diabetes Wellness Clinic at Advocate South Suburban Hospital in Hazel Crest, Ill. "But, when examining the data of over 300,000 people, a 2.6 percent difference includes a significant number of people affected."
Dr. Bhan says it isn't clear why Type 1 diabetes is related to low bone density. She says it might have to do with low insulin levels at a young age, when bone mass is being built.
"This research highlights the need to address potential bone density issues in our pediatric and young adult Type 1 patients to head off debilitating fractures at every age," says Dr. Bhan.
She also says that while lower BMD certainly is a prime factor in the increased rate of Type 1 diabetic bone fracture, there are also a number of other factors associated with the disease.
Diabetic retinopathy, a group of eye problems associate with diabetes, causes poor vision that can contribute to bone-breaking trips, slips and falls. More severe diabetes is associated with an increased incidence of peripheral neuropathy, which is nerve damage that can lead to weakness, numbness and pain in the legs and feet.  These symptoms can lead to fracturing falls.
Type 1 diabetics, particularly those older adults who may be dealing with BMD issues, says Dr. Bhan, should take this new research to heart. She advises taking some practical precautions to avoid accidents that could put people at an increased risk for breaking bones.
Dr. Bhan recommends wearing rubber-soled shoes both indoors and outdoors to prevent slipping, keeping all walkways clear of tripping hazards and maintaining adequate lighting in and around the house. In the bathroom, where many slips happen, it's a good idea to have a grab bar and an anti-slip mat installed in the shower or bath.
Type 1 diabetes, previously known as juvenile diabetes, is an autoimmune condition that prevents the body from producing insulin. This is a hormone that is needed to convert sugar, starches and other food into energy needed for daily life. In order to manage the disease, Type 1 diabetics use insulin therapy and other treatments to regulate glucose in their blood.
Related Posts
Comments
About the Author
Nate Llewellyn, health enews contributor, is a manager of public affairs at Advocate Medical Group. Nate began his career as a journalist and builds daily on his nearly 20 years of writing experience. He spends most of his free time following his wife to their two sons' various activities.