What do marathoners think about while running?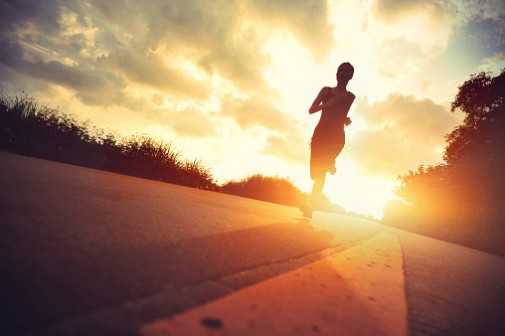 If you have ever wondered what marathon runners think about while spending hours pounding the pavement, researchers may have found the answer.
In the first study of its kind, runners training for a half marathon or marathon were asked to think aloud while they were running a distance of at least 7 miles. The thoughts were captured by a recording device.
Twenty-eight percent of thoughts were related to the outward environment such as hills, heat, traffic, admiration for the environment and thoughts about wildlife. The majority of the time (40 percent) was spent thinking about pace and distance as runners tried to keep a steady pace and good form.
Another 32 percent of the time was spent thinking about the pain and discomfort the runners were feeling.
"My hips are a little tight. I'm stiff and my feet, my ankles, are just killing me this morning," was just one of the thoughts of runners participating in the study.
Although runners complain of discomfort when running, they shouldn't feel anything sharp or painful while moving.
"Runners should not be feeling pain," says Megan Olson, exercise specialist with Advocate Weight Management in Libertyville, Ill. "If they do feel pain, they should stop immediately and address the issue, but there is usually a feeling of discomfort which accompanies the challenge of high intensity exercise."
Long runs can be tough and mentally challenging.
Shara Swager, an exercise specialist with Advocate Weight Management, offers runners these tips to help pass the time:
Put together a playlist of their favorite upbeat songs or songs which match your running cadence.
Make a to-do list.
Think about upcoming plans.
Listen to an audiobook or podcast that lasts as long as your run.
"To keep your mind off discomfort, run through a scenic area so there is a lot to look at, run with a group or friend to converse with, sign up for organized races or participate in obstacle course runs," says Swager.
Olson offers these four tips to help runners prepare for a run:
Hydrate. Drink 12 ounces of water 30 minutes prior to the run, and if possible bring water along and drink 6 ounces every 20 minutes.
Shoes. Go to a specialized running shoe store for a gait analysis and shoe fitting to make sure you have the proper footwear.
Eat right. Every person is different, but most find that eating a high carbohydrate/moderate protein/moderate fat meal approximately one hour beforehand will provide enough energy for a run. Marathoners also may need an "energy gel" pack to consume during the run.
Proper training. Gradually increase the distance over a few weeks rather than trying to make significant increases all at once.
Related Posts
Comments
About the Author
health enews staff is a group of experienced writers from our Advocate Aurora Health sites, which also includes freelance or intern writers.