Cut fat not carbs to lose weight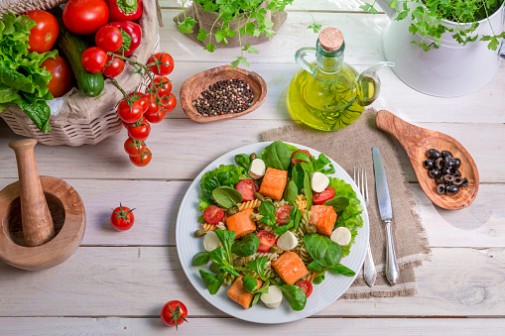 Low-fat diets trigger more weight loss than low-carb diets, according to new research published by the National Institutes of Health.
In a very small study, researchers monitored 19 adults who were obese in a metabolic ward for two non-consecutive two-week periods. One group had 30 percent of their calories cut by eliminating carbohydrates, while the other group had the same amount of calories cut by eliminating fats. Participants also exercised every day during both periods.
Researchers measured participants' fat intake and fat burning daily and used the  information to determine the rate at which they were losing body fat. Although participants burned more fat on the low-carb diet, they lost more body fat on the low-fat diet.
"A lot of people have strong opinions about what matters for weight loss, and the physiological data upon which those beliefs are based are sometimes lacking," said Kevin Hall, metabolism researcher at the National Institute of Diabetes and Digestive and Kidney Diseases and lead researcher, in a news release. "I wanted to rigorously test the theory that carbohydrate restriction is particularly effective for losing body fat since this idea has been influencing many people's decisions about their diets."
Ultimately, the most important thing when trying to lose weight is to find a diet a person can stick to, says Dr. Michael Flicker, gastroenterologist at Advocate Illinois Masonic Medical Center in Chicago.
"While these results are certainly interesting, it's important to note that most people find it difficult to maintain a diet in which one entire food group is eliminated," Dr. Flicker says. "Sustained, long-term healthy eating is the best way to lose weight and keep it off."
For people who are trying to lose weight, he suggests:
Stay away from processed foods and try to prepare your own meals as often as possible rather than eating out.
Eat smaller meals throughout the day and avoid large meals in the evening.
Drink more water, especially before meals, which can help curb your appetite.
Avoid soda and sugary drinks, including fruit juice.
Limit alcohol consumption.
Exercise at least 30 minutes, five days a week.
Set realistic and achievable goals. Give yourself non-food rewards for achieving goals.
Aim for slow, steady weight loss. One to 2 pounds a week is a good target.
Talk to your doctor or a dietitian for help developing a plan that works best for you.
Related Posts
Comments
About the Author
health enews staff is a group of experienced writers from our Advocate Aurora Health sites, which also includes freelance or intern writers.