3 tips to talk to kids about Alzheimer's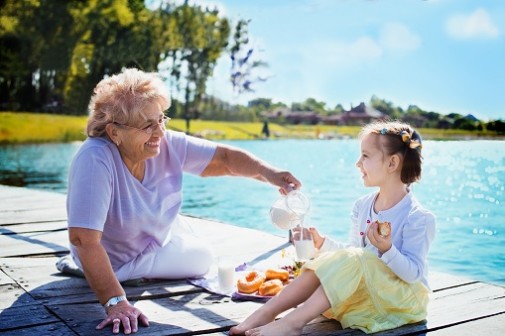 Alzheimer's disease is the sixth leading cause of death in the U.S., with someone developing the disease every 67 seconds, according to the Alzheimer's Association. In 2015 alone, an estimated 5.3 million Americans were found to have the disease.
With such a high prevalence, it's important for parents and adults alike to know how to talk about this common condition with kids.
Danielle Dodson, a clinical social worker and memory loss program coordinator at the Advocate Memory Center at Advocate Lutheran General Hospital in Park Ridge, Ill., says among the literature and resources for Alzheimer's disease, there are not a lot of services specifically for children, but there is a growing body of children's books about the disease.
"This is a very critical topic with more people being diagnosed with early onset Alzheimer's before age of 65," she says. "And, through improved diagnostic techniques, people can be diagnosed very early and still live full lives with early interventions."
Learning to communicate with a loved one diagnosed with Alzheimer's is important for both sides.
"Modifying one's communication approach when interacting with a person with dementia can be challenging even for adults," says Dodson. "So it's particularly important to offer simple guidance to children about how to do this."
Dodson says people should ensure that any questions are not overly dependent on memory and don't rely on answers with logic or reasoning.
"Adults can't expect a child to adapt their communication approach, so they need to be the teacher to help them to learn a new way to interact," she adds.
Dodson suggests the following three key tips to keep in mind when talking to a child about their loved one's disease:
Be honest. It's important for adults to let the child know that this is a disease and that they shouldn't take the changes in behavior or mood personally. Let them know they don't need to be afraid.
Keep it simple. A good way to explain Alzheimer's is that it is a disease of the brain or that the brain is sick. The Alzheimer's Association recommends parents explain the disease as not just memory loss but a disease that affects how the brain works and how a person thinks. And that over time, it can also change the way their loved one can move and function.
Try non-verbal activities. Those with Alzheimer's often take joy in activities that don't require a lot of verbal ability and that don't rely on memory. Try creative art, music, dance or painting that both children and families can take joy in and communicate without language, she says.
The Alzheimer's Association provides the following activities that children and teens can share with a person with dementia or Alzheimer's:
Bake cookies
Take a walk around the neighborhood
Put a puzzle together
Weed a garden or plant flowers
Color or draw pictures, or look at photos
Create a scrapbook or memory box with mementos
Read a favorite book or story
Eat a picnic lunch outside
Watch your favorite TV show together
Listen to or sing old songs
The Alzheimer's Association also provides resources for kids and teens in a format that they can understand, including videos as well as a  guide for parents to help kids understand the disease.
Dodson says that while services may not be available specifically around kids, a school counselor or social worker can be a valuable resource in helping children discuss their feelings about their family member's diagnosis and learn healthy ways to cope with the changes.
Related Posts
Comments
About the Author
Sarah Scroggins, health enews contributor, is the director of social media at Advocate Aurora Health. She has a BA and MA in Communications. When not on social media, she loves reading a good book (or audiobook), watching the latest Netflix series and teaching a college night class.