Rare condition has one little girl seeking help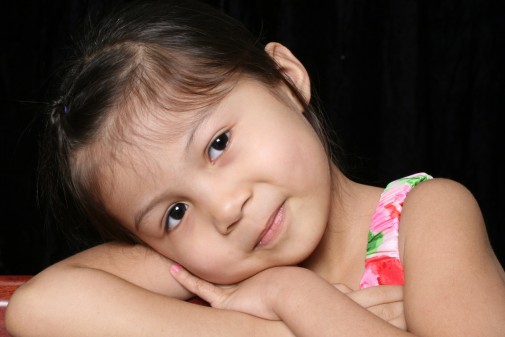 Sophia Trujillo had her annual check-up before starting kindergarten. The five-year-old looked healthy, but her mom Michelle Trujillo was concerned about her daughter bruising easily, so their pediatrician ordered a blood test.
When the results came in, Sophia was diagnosed with a rare and serious condition called aplastic anemia.
"Aplastic anemia is really bone marrow failure," says Dr. William Goodell, Sophia's oncologist/hematologist at Advocate Children's Hospital in Park Ridge, Ill. "And, like any other organ failure, this is a life-threatening disease."
Dr. Goodell explains that Sophia has low platelets, which causes her blood to not clot the way it should, so she bruises easily.
"She loves ballet, but had to stop going to class," says Michelle Trujillo. "And a temperature of 100.5 or higher for her means at least two days for a hospital stay. Due to her lower immune system she has missed months of school."
The best treatment for severe aplastic anemia is a bone marrow transplant. Stem cells from bone marrow transplants are most commonly obtained by volunteer donors. Another option is umbilical cord blood transplants, which are removed right after birth.
According to the Health Resources and Services Administration, nearly 20,000 people each year in the U.S. need a bone marrow or blood cell transplantation from a donor.
"Stem cells for bone marrow transplantation must be matched perfectly to prevent rejection or serious reactions in the recipient," Dr. Goodell says. "Bone marrow transplant teams look for the best available match. If a perfect match is not available, many times there is availability of an 'acceptable' match."
Ethnicity and race for a recipient are very important factors for finding a perfect match, experts say. Sophia is half Filipino, and a mix between Italian, Spanish and Irish, so her tissue type is very diverse. She is currently still looking for the perfect match based on her specifications.
"Sophia doesn't look sick and she's not contagious," her mom says. "And, iron pills won't make her illness go away. She just needs a match."
Dr. Goodell says that for white patients of northern European ancestry, a perfect match is found about 75 percent of the time, and an acceptable match can be found for over 95 percent. For minorities the odds of finding a match are much lower.
Joining the registry is simple and only requires a consent form and four cheek swabs. If you are found to be a suitable match for a patient in need you will be contacted. A simple blood draw can be done to extract stem cells. Bone marrow can also be taken from your hip. Bone marrow regenerates itself so your health wouldn't be affected at all.
If you are interested in learning more about becoming a donor, visit bethematch.org. To learn more about Sophia's journey click here or to hear her story in the media, click here. Join the social movement and share this story with #Swab4Sophia.
Related Posts
Comments
About the Author
Sonja Vojcic, health enews contributor, is a marketing manager at Advocate Health Care in Downers Grove, Ill. She has several years of international public relations and marketing experience with a Master's degree in Communications from DePaul University. In her free time, Sonja enjoys spending time with her family, travelling, and keeping up with the latest health news and fashion trends.