A 48-year-old's miraculous recovery from a stroke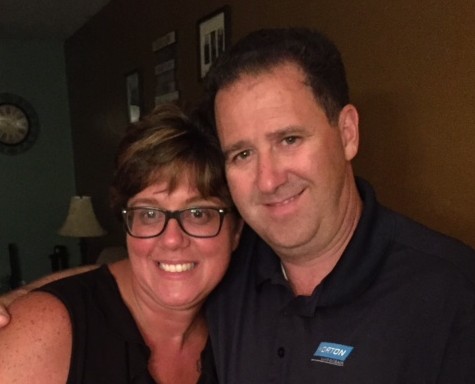 It's common for people in their 40s to think they are too young to have a stroke. And, while it may be rare, studies suggest the risk of stroke may be increasing for those between 20 and 54 years old.
Joe DeVita, 48, is one of the growing number of younger Americans who have had a stroke.
One morning last December, his alarm went off. When he failed to hit the snooze button, his wife, Melinda DeVita, rolled over to complain. He was lying next to her, staring straight ahead, unable to move or talk.  When paramedics arrived, they said Joe DeVita had experienced a stroke.
"Joe is really one of our miracles," says Dr. Thomas Grobelny, neurointerventionalist at the Comprehensive Stroke Center at Advocate Lutheran General Hospital in Park Ridge, Ill. "Because he had the stroke in the middle of the night, there was no way to determine the exact time, which ruled out some of our early interventions.  Instead, I performed a thrombectomy  – a minimally-invasive, interventional procedure to retrieve the blood clot from his brain."
Without the procedure, he may have had no chance of recovery, says Dr. Grobelny.
Joe DaVita woke up the next day in the Intensive Care Unit. He sat up and walked that day, which amazed his wife.
"It was a miracle, nothing less," says Melinda DeVita.
"I still have a numbing sensation in my arm sometimes, a slight hearing loss and I struggle every now and then with my speech," he says. "But when I think about what could have happened, I feel so lucky."
The U.S. Centers for Disease Control and Prevention offer these five healthy lifestyle tips which may help prevent a stroke:
Eat a healthy diet
Maintain a healthy weight
Get enough exercise
Do not smoke
Limit alcohol use
Joe DaVita will be honored by the Chicago Bears at the season opener home game on Sunday, September  13 and have the opportunity to unfurl the "Bear Down" flag during pregame festivities.
Related Posts
Comments
About the Author
Evonne Woloshyn, health enews contributor, is director of public affairs at Advocate Children's Hospital. Evonne began her career as an anchor and reporter in broadcast news. Over the past 20 years, she has worked in health care marketing in both Ohio and Illinois. Evonne loves to travel, spend time with family and is an avid Pittsburgh Steelers fan!