Blog: Southern fried chicken can be diabetes-friendly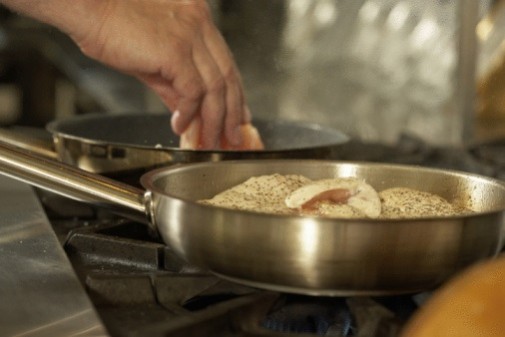 Hello, I'm Chef Curtis Aikens. As one of the original Chefs/Hosts of the Food Network, my first show was "Food in a Flash," later I hosted "From my Garden" taped on location in Northern California at an organic farm. I was called a Celebrity Chef, however, in my kitchen the only celebrity is the food!
As part of Novo Nordisk Diabetes Academy, as well as a person living with diabetes, I take every opportunity to help the millions of Americans battling this manageable disease. I want to share with you a way to prepare foods that taste great and can help you or someone you love manage diabetes.
Here is a recipe to try:
NEW Southern Fried Chicken
Ingredients:
1 large whole chicken breast filet
1 / 4 cup flour
2 teaspoons fresh rosemary, chopped fine
2 teaspoons fresh tarragon, chopped fine
2 teaspoons fresh oregano, chopped fine
2 tablespoons peanut oil
1 egg white
Directions:
Filet chicken breast into 3 portions.
In plastic bag place flour and herbs: rosemary, tarragon & oregano.
Whisk egg white until frothy and coat chicken pieces.
Drop chicken pieces into bag to coat in flour mixture.
Heat 2 tablespoons of peanut oil in non-stick pan. (you may exchange oil if you cannot have nuts)
Drop in dusted pieces of chicken and cook 5 to 7 minutes on each side.
Chef Curtis Aikens will be sharing more recipes at the Diabetes Academy on September 28 from 6:30-8:00 pm at Advocate Condell Medical Center in Libertyville, Ill. Click here to register using code 5D03.
Related Posts
Comments
About the Author
Chef Curtis Aikens discovered his passion for food and cooking at a young age growing up on a Georgia farm, where freshly picked vegetables were always a part of a home-cooked meal. Having realized his big-screen dream as a local television personality in Atlanta, Curtis traveled cross-country, establishing produce-supplier companies along the way. Beginning as a celebrity chef on ABC's "Home Show" and "Good Morning America," he was dubbed "the greengrocer who can cook." Curtis became one of the founding hosts of The Food Network, where he shared healthy recipes on shows such as "Food In A Flash," and demonstrated how to use fresh produce on "Pick of the day" and "Meals without Meat." As a diabetic himself, Curtis lives by the motto "practice makes permanent," and encourages others to make a lifestyle choice of eating healthy without sacrificing flavor.