Can eating fish reduce your risk of depression?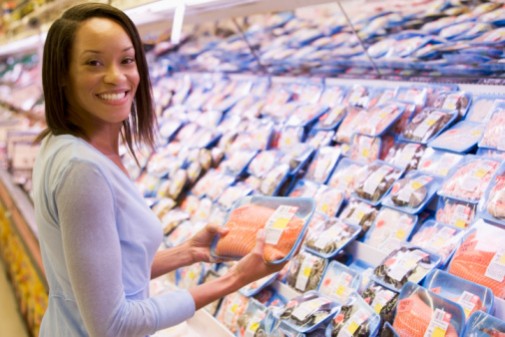 Eating more fish may mean feeling happier, according to researchers of a new study that found people who eat the most fish had a 17 percent lower risk of depression than those who eat the least.
The biological reasons for the link was not established in the study, but the evidence for a tie between diet and depression is mounting. For instance, another recent study indicated that a diet rich in whole grains may also help protect against depression.
Researchers said the antidepressant qualities in fish might stem from the omega-3 fatty acids found in them, as they may modify chemicals in the brain like dopamine and serotonin, which help regulate mood and the feeling of well-being.  Another theory from researchers was that the effect might be due to the fact that people who eat more fish are generally healthier.
"There are many health reasons – heart protection, stroke prevention, low fat, high protein and more – to incorporate fish into your diet," says Dr. Abdul Ghani, cardiologist with the Advocate Heart Institute at Advocate South Suburban Hospital in Hazel Crest, Ill. "It's great to find out that there is the added bonus of a boost to mental health."
The study results were based on analysis of 26 observational studies that studied fish consumption and depression in more than 150,000 people around the world.  The analysis found that in Europe, fish contributed to a significant reduction in the likelihood for depression.
The study didn't specify why similar results were not seen elsewhere, but speculated that it may have been due to differences in fish species, cooking styles, or even as a result of limited data.
Dr. Ghani agrees with recommendations to eat fish at least twice a week to take advantage of its health benefits, many of which come from its omega 3 fatty acid content.  He notes that fatty fish like swordfish, mackerel, sardine, salmon and red tuna contain the highest amount of omega 3 fatty acids.
"Many, many scientific studies looking at a variety of diseases over a significant amount of time demonstrate the health benefit of omega 3 fatty acids," says Dr. Ghani. "Increasing the amount of these fatty acids in your diet is an easy and effective way to improve your overall wellness, and your mental health."
Dr. Ghani says that some people may not want to consume fish, but there are other sources that contain fatty acids. Besides fish, fatty acids can be found in nuts and seeds, as well as supplements.
Related Posts
Comments
About the Author
Nate Llewellyn, health enews contributor, is a manager of public affairs at Advocate Medical Group. Nate began his career as a journalist and builds daily on his nearly 20 years of writing experience. He spends most of his free time following his wife to their two sons' various activities.