10 percent of women drink alcohol while pregnant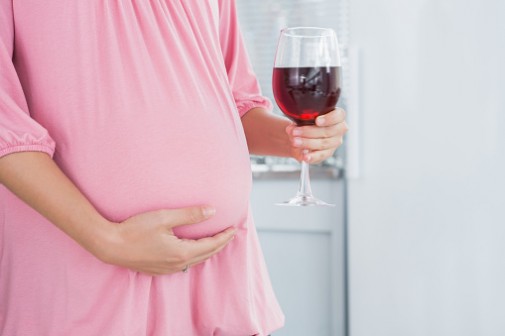 One in 10 women in the U.S. drink alcohol while pregnant, placing her unborn child at risk, according to a Behavioral Risk Factor Surveillance System survey from the Centers for Disease Control and Prevention.
The survey also revealed that roughly 3 percent of pregnant woman admitted to binge drinking. While some pregnant women may believe drinking alcohol will not hurt their unborn babies, physicians say that simply is not the case.
"The first and most important point is that there is no known safe amount of alcohol consumption in pregnancy," says Dr. Eileen Morrison, obstetrician and gynecologist with Advocate Condell Medical Center in Libertyville, Ill. "This is evident in the term Fetal Alcohol Spectrum Disorders."
Dr. Morrison says alcohol use during pregnancy has been associated with physical abnormalities such as facial anomalies, microcephaly/small head or overall poor growth, behavioral problems such as mood or attention disorders, intellectual disabilities, and even deficits in motor function.
"The worst manifestation is Fetal Alcohol Syndrome, which includes all three of the characteristic facial abnormalities plus central nervous system involvement and poor growth," Dr. Morrison says. "But, a child can have just a neuro-development disorder without any physical features. Since we know of no safe level of alcohol, it is not worth risking future problems with behavior or school struggles for that one glass of wine."
According to the National Organization on Fetal Alcohol Syndrome, when it comes to alcohol and pregnancy, there is no safe amount, no safe time, no safe alcohol.
Among pregnant women, alcohol use was highest among those 35 to 44 years old (19 percent), college graduates (13 percent) and unmarried women (13 percent).
While the numbers may be discouraging, the reality could be even worse.
"We absolutely believe that alcohol use in pregnancy is under-reported," says Dr. Morrison. "That is why universal counseling in pregnancy and in all women of child-bearing age is warranted. After all, women can't even know they are pregnant until they are about four-weeks gestation. If a woman feels she has a drinking problem, she needs to feel that she has a safe place to go for help. That starts with a doctor or midwife."
Related Posts
Comments
About the Author
Kathleen Troher, health enews contributor, is manager of public affairs and marketing at Advocate Good Sheperd Hospital in Barrington. She has more than 20 years of journalism experience, with her primary focus in the newspaper and magazine industry. Kathleen graduated from Columbia College in Chicago, earning her degree in journalism with an emphasis on science writing and broadcasting. She loves to travel with her husband, Ross. They share their home with a sweet Samoyed named Maggie.