Managing sickle cell disease while pregnant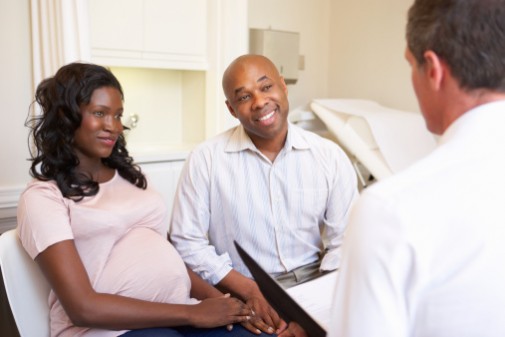 Sickle cell disease (SCD) is an inherited blood disorder that affects the red blood cells.
According to the Sickle Cell Disease Association of America, between 70,000 and 100,000 Americans have the disease, which is typically discovered during routine newborn screenings. For those with SCD, red blood cells are hard and look like the farming tool called a "sickle."
Since these cells die early there is always a constant shortage of red blood cells in the body. In addition, the red blood cells have problems moving through small blood vessels and therefore get stuck causing clogging of blood vessels.
For women with SCD, complications during pregnancy are more common than for women without SCD. The Centers for Disease Control and Prevention (CDC) lists complications including higher risk of preterm labor, low birth weight and growth restriction.
However, women who have SCD are able to have a healthy pregnancy with the aid of genetic counseling, early prenatal care and careful monitoring.
Dr. Luther Gaston, an obstetrician and gynecologist with Advocate Medical Group in Chicago, has a few suggestions on maintaining a healthy pregnancy with SCD:
Make early and frequent prenatal visits to your doctor. This may include visits to a maternal fetal medicine specialists and a hematologist for managing sickle cell anemia.
Take five milligrams of folic acid per day.
Start monitoring kick counts at 26 weeks.
Start monthly growth ultrasounds after 28 weeks until delivery to detect fetal growth restriction.
Stay adequately hydrated and oxygenated during labor and delivery.
An epidural is often suggested for pain control during labor. It will also help to decrease cardiac demand and oxygen consumption.
The CDC recommends that people living with sickle cell disease should include drinking eight to 10 glasses of water each day along with maintaining a healthy diet. The organization also recommends maintaining a regular body temperature, as well as not exhausting oneself.
A genetic counselor can determine whether a mother will pass the sickle cell disease to her baby.
SCD is a genetic condition that occurs when an individual inherits two sickle cell genes, one from each parent. So someone can carry the sickle cell trait (SCT), but that does not mean that they have inherited the sickle cell disease. People with SCT do not experience the effects of sickle cell disease but have the chance of passing it along to their children. Both parents must have the sickle cell trait to pass the disease along to their child.
A genetic counselor can determine more about risks with detailed family history.
Related Posts
Comments
About the Author
Tiffany Nguyen, health enews contributor, is a public affairs and marketing intern at Advocate Support Centers in Downers Grove, IL. She is a graduate of Northern Illinois University with a degree in public health. She is currently pursuing a Master's in Business Administration focusing specifically on healthcare management at Lewis University. Tiffany enjoys hanging out with her friends, exploring new restaurants, and binge watching Netflix shows.