Is 30 minutes of exercise a day enough?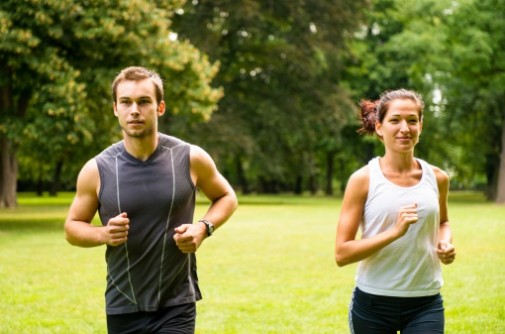 Thirty minutes a day of moderate-intensity exercise may not be enough to ward off heart disease, according to a new study.
Researchers from the University of Texas Southwestern Medical Center studied how much physical activity is needed to effectively lower the risk of heart disease. The team analyzed 12 studies involving more than 370,000 people who kept track of their exercise habits for 13 years.
"We didn't start seeing 30 to 40 percent reduction in risk until the people were out at three times to four times [450 to 600 minutes] the recommended amount of exercise," lead study researcher Jarett Berry said in a news release.
The results indicated that participants who were the most physically active showed a 30-percent lower risk of heart failure than those who exercised the least. The group that stayed within the government recommendations of 150 minutes also lowered their risk of heart failure by 15 to 22 percent.
Dr. Thomas Discher, a cardiologist with the Advocate Heart Institute at Advocate Good Samaritan Hospital in Downers Grove, Ill., says the study underscores the importance of exercise in lowering the risk of heart disease.
"Heart disease is the number one cause of death in the U.S.," says Dr. Discher. "It's imperative that we take preventative measures such as eating a healthy diet and exercising more in order to lower the risk of heart failure."
Regular exercise also leads to heart-healthy habits that can counter conditions such as obesity, high blood pressure and poor cholesterol levels, according to the American Heart Association. All of these conditions can contribute to heart disease.
"I tell all of my patients that they should strive to exercise an hour a day," Dr. Discher says. "With all of the technology that is available from activity trackers to smartphone apps, it's easy to monitor your progress and reach the goal of 10,000 steps a day."
Related Posts
Comments
About the Author
Johnna Kelly, healthe news contributor, is a manager of public affairs and marketing at Advocate Christ Medical Center in Oak Lawn. She is a former newspaper reporter and spent nearly 10 years as a public relations professional working for state and county government. During her time as a communications staffer for the Illinois General Assembly, she was integral in drafting and passing legislation creating Andrea's Law, the nation's first murderer registry. In her spare time, she volunteers at a local homeless shelter, enjoys traveling, photography and watching the Chicago Bulls.