Can exercise keep your brain young?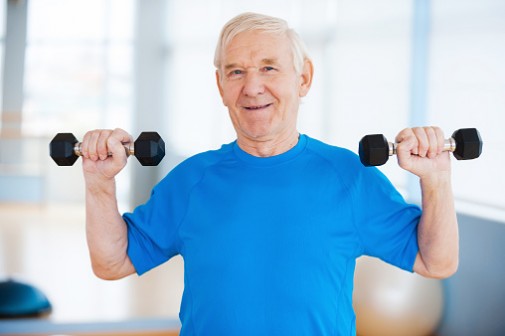 Exercise is a good way to manage weight, build stronger muscles and ward off heart disease, but it also been shown to improve mental health.
The direct relationship between physical fitness, brain activity and brain function was demonstrated in a study from the University of Tsukuba in Japan. In the study, 60 men 64 to 75 years old underwent exercise tests to measure their aerobic fitness. The results showed that those who were "aerobically fitter" performed better mentally than the "less fit" men.
As part of the study, researchers looked at the prefrontal cortex (PFC), which is located in the front of the brain and plays a role in memory, intelligence, language and vision. Younger people typically use the left side of the PFC for mental tasks such as short-term memory, understanding the meaning of words and recognizing events, objects and people. However, older people use equal parts of the PFC located on the right side of the brain for these same tasks.
Those who were deemed more "aerobically fit" as an older adult used the left part of their brain in the same way as they did when they were younger.
"One possible explanation suggested by the research is that the volume and integrity of the white matter in the part of the brain that links the two sides declines with age," lead study author Dr. Hideaki Soya said in a news release. "There is some evidence to support the theory that fitter adults are able to better maintain this white matter than less fit adults."
Dr. Raed Abusuwwa, neurosurgeon with Advocate Medical Group at Advocate Good Samaritan Hospital in Downers Grove, Ill., says exercise reduces insulin resistance, decreases inflammatory factors and stimulates the release of cell growth. Exercise is also shown to indirectly improve mood and sleep in addition to reducing stress and anxiety.
"Studies in the U.S. and abroad have suggested areas of the brain that are involved in memory and critical thinking, such as the hippocampus and prefrontal cortex, have greater volume in people who maintain a regular exercise regime of moderate intensity," says Dr. Abusuwwa.
The neurosurgeon suggests the following tips to keep your mind sharp and active:
Move more. Go for a walk, swim, join a gym and workout with a group who will help you adhere to a regular exercise.
Eat nutrient-rich foods like bananas, avocado and spinach.
Track your progress.
Read, play board games, take a class or visit a museum.
Enhance your problem solving skills through crossword puzzles, Sudoku and chess.
Keep an active social calendar.
Get enough sleep.
Engage all of your senses – stop and smell the roses (literally).
Related Posts
Comments
About the Author
Johnna Kelly, healthe news contributor, is a manager of public affairs and marketing at Advocate Christ Medical Center in Oak Lawn. She is a former newspaper reporter and spent nearly 10 years as a public relations professional working for state and county government. During her time as a communications staffer for the Illinois General Assembly, she was integral in drafting and passing legislation creating Andrea's Law, the nation's first murderer registry. In her spare time, she volunteers at a local homeless shelter, enjoys traveling, photography and watching the Chicago Bulls.