Indulge in pumpkin for powerful health benefits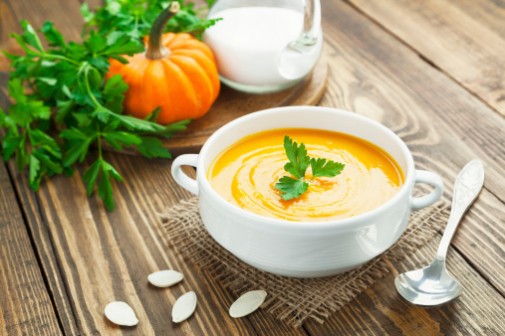 When fall arrives, most people welcome the onslaught of pumpkin – pumpkin pie, pumpkin pancakes, pumpkin soup, and the list goes on and on. Pumpkin is so popular it even has its own Twitter handle, and now there's another reason to love the pumpkin, it has a number of health benefits.
"Not just for decorating, pumpkins are considered a superfood by some because they are an excellent source of vitamin A and carotenoids, which decrease cancer and cardiac disease risk, as well as keep eyes healthy and increase immune function," says Catherine LaBella, registered dietitian at Advocate Lutheran General Hospital in Park Ridge, Ill.
One cup of mashed, cooked pumpkin serves up nearly 250 percent of vitamin A's recommended daily allowance, which boosts eye health, according to the National Institutes of Health. Plus, its orange color, created by carotenoids — precursors to vitamin A – includes beta-carotene, which helps improve vision.
Carotenoids also helps stave off cancer cells and help your skin stay smooth and free of wrinkles.
To keep your heart healthy, look to pumpkin seeds. These tasty treats are filled with a chemical called phytosterols, which reportedly help lower LDL, or bad cholesterol. They're also loaded with tryptophan, the amino acid that helps with the production of serotonin, the happy hormone and an appetite suppressant, great for weight loss.
LaBella notes that these gourds are also good sources of:
Potassium
Vitamin C
Magnesium
Fiber
Putting pumpkin to good use
Now that you know how good they are for you, you may want to try a few recipes of your own.
LaBella says fresh pumpkin can be cut up and roasted, but don't feel badly about using canned pumpkin — it is much easier and just as nutritious. The easiest way to get pumpkin into your diet is through baked goods such as muffins, cookies and pancakes.
"Look for lower fat recipes," says LaBella. "It's not hard to do as the moisture that pumpkin provides allows you to use less fat without compromising quality. I have to confess that pumpkin pie with a gingerbread crust is my favorite way to enjoy pumpkin—whipped cream optional."
Roasted pumpkins seeds are not only nutritious but delicious as well. Just add a little salt or seasoning of your choice. If the hard shell is too much for you, LaBella recommends looking for shelled seeds, often sold as pepitas. You can also add these to baked goods, cereals and salads.
So if you're feeling guilty about your pumpkin cravings, just give in and indulge — unless of course you're allergic. Although pumpkin allergies are rare, if you've been counseled on following a low-potassium diet (often for kidney disease), use pumpkin in small amounts and only with caution, LaBella adds.
Related Posts
Comments
About the Author
health enews staff is a group of experienced writers from our Advocate Health Care and Aurora Health Care sites, which also includes freelance or intern writers.