BLOG: Cancer survivor's mission to support others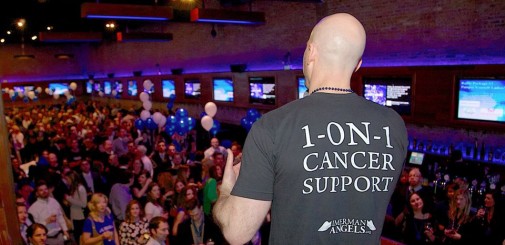 On a Thursday morning in October 2001, my world came to a standstill. At 26 years old, I was diagnosed with testicular cancer. Although the surgery to remove my left testicle went well, it soon became clear that the cancer had spread, or "metastasized." The disease was making its way up my body.
I knew what was next- chemotherapy -but I did not understand what that meant. What color is it? How will it make me feel? I called my brother. I started sobbing. I could barely talk. My world was shattered. But, I was not going to give up.
My oncologist told me that the treatments might make me sterile. So, I went to a cryogenics laboratory to bank sperm. After that, it was time to start intense cycles of chemotherapy.
The treatment weakened my body and wiped out most of my white blood cells. In fact, I was in such bad shape, the doctors were forced to delay my chemotherapy while my body recovered between cycles. In addition, the chemotherapy caused many side effects, the most damaging side effect was a blood clot that developed in my left arm. The clot formed around my port, a medical implant that was an access point for my chemotherapy. The doctors had to remove my port, pull out most of the blood clot, and then pump me with blood thinners to break up the rest.
At last, after five months of brutal chemo treatment, I thought my fight was over. I slowly returned to the gym, started going out socially, and got back into life. Although I was happy to be alive, every day was a challenge. I did not have as much energy. I looked different. I struggled to find my post-cancer identity. Just as I was getting comfortable with myself, I learned the fight was not over.
Nearly one year after chemotherapy, a routine CT scan showed four tumors along my spine. After a four hour surgery, I was finally freed from the disease and able to begin my road to recovery.
But my journey was certainly not over. I had made a vow to myself during the time that I was battling cancer. I had looked at others in the oncology clinic and realized that I was different. Each day, my room was filled with family members, close friends and my great doctors. With so much support, I did not have a chance to lose hope. However, in many of the other rooms, hope already seemed lost. As I walked down the hall with my chemotherapy IV-pole on the way to the bathroom, I saw other people fighting cancer alone. They were lying in bed, motionless, watching television or staring in space. Their only stimulation was a nurse checking in for a minute or two on the hour. I knew this was not right. It upset me.
I wondered: "What if every cancer fighter could talk to a cancer survivor who was uniquely familiar with their experience; who not only had beaten the same type and stage of cancer, but who also was the same age and gender as the fighter?" The cancer survivor would be an angel-  walking, living proof that the fighter could win, too. What an amazing connection. This is why I created Imerman Angels.
What does Imerman Angels do?
Imerman Angels carefully matches and individually pairs a person touched by cancer (a cancer fighter or survivor) with someone who has fought and survived the same type of cancer (a Mentor Angel).  Cancer caregivers (spouses, parents, children and other family and friends of fighters) also receive 1-on-1 connections with other caregivers and survivors. These 1-on-1 relationships inspire hope and offer the chance to ask personal questions and receive support from someone who is uniquely familiar with the experience.
Visit www.ImermanAngels.org for information on how to support or join the network of cancer fighters, survivors and caregivers.
Today, I'm cancer free and doing my best to lead a healthy life. I am a vegan, I make sure to get at least seven hours of sleep each night and I get my annual physical. I also enjoy staying active by lifting weights, playing tennis and running.
Jonny Imerman is a guest blogger for health enews as part of Advocate's Man Up! for Men's Health campaign. 
Related Posts
Comments
About the Author
Jonny Imerman is a young adult cancer survivor who strives to make sure no one fights cancer without the support of someone who has already triumphed over the disease. After being diagnosed with testicular cancer at the age of 26, Jonny founded Imerman Angels, a non-profit organization, which carefully matches a person touched by cancer with someone who has fought and survived the same type of cancer. Imerman Angels now has more than 6,000 cancer survivors and more than 1,500 caregivers in its network. Jonny grew up in Bloomfield Hills, MI and lives in Chicago.