BLOG: Mindful choices are the key to thriving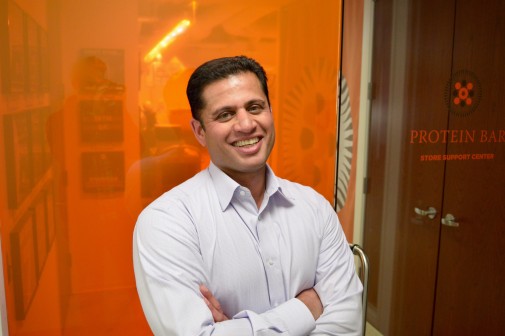 I'll be honest – health was not always a priority in my life.
During my 20s, I was pretty sure I was invincible, and I lived that way. In my 30s, reality really started to creep into my consciousness, and now that I am in my 40s, I've realized just how important nutrition and fitness are. Quite honestly, it started with getting my first "real" physical, and my doctor asking about my diet and weight. That will just about open your eyes to the need for a shift.
That being said, I still want to enjoy life. For instance, I love pizza and chocolate chip cookies. So, now it's about being aware of what I'm eating and mindful for most of my meals. When I'm going to have pizza  (it's good pizza), and I'm gonna enjoy it. But, I balance it with responsible meals during the week, especially at lunch time.
One of the toughest challenges with eating better is having it be satisfying, taste good and be a place you can go to everyday if you have to, even when you are busy. There's no way I will eat responsibly if eating becomes a chore or if it's too hard to find a decent option, and that's the dilemma I've always faced. I've always wanted to eat better, and often did, but when I was eating out, it was tough to find a fast place to get a good-tasting meal.
Protein Bar was one of the few places I ate a "healthy" meal and actually enjoyed it. Ultimately, that is what drew me to the brand and its positioning.
For many years, it seemed as if eating out meant bigger portions, more fat, more sodium and more sugar. Protein Bar's mission is the opposite. We want you to enjoy your meal, but have it fit with your lifestyle goals. The other facet of Protein Bar that I love is that we aren't going to tell you what you should eat. Vegan? Calorie-conscious? Whatever your choice is, we will work with you.
We offer a series of fantastic options, but what's even better is that they are easily customizable. We don't make the food until you order it – so it can be built exactly the way you prefer. Want extra beef? Prefer tofu instead of chicken? Don't like carrots? No problem. Build it the way that fits your lifestyle.
Here's a healthy and filling recipe from my kitchen:
To learn more about men's health, visit ManUpAtAdvocate.com. On the site, men can make same-day appointments, find helpful tips and screening information and also find a doctor.
Samir Wagle is a guest blogger for health enews as part of Advocate's Man Up! for Men's Health campaign. 
Related Posts
Comments
About the Author
California native Samir Wagle jumped around the world, working as far away as India before landing at Chicago-based Protein Bar, at which he now utilizes skills from general manager training to chief operating officer experience as president and CEO. Samir is a guest blogger for health enews, sharing his experiences with working at the Protein Bar. Opinions are his own.