Why men eat more while dining with women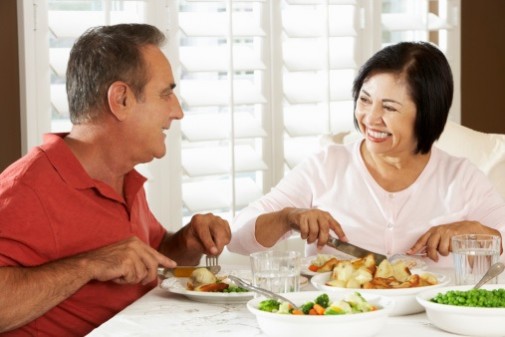 Men overeat to show off in front of the opposite sex, according to a new, small study from Cornell University.
Researchers followed 105 adults eating lunch at an all-you-can-eat Italian buffet over the course of two weeks. They tracked the number of pizza slices and bowls of salad consumed, as well as gender of each diner's companion during the meal.
Before leaving the restaurant, participants were asked to complete a short survey expressing their level of fullness after eating, and their feelings of hurriedness and comfort while eating.
Men who dined with at least one woman ate 93 percent more pieces of pizza and 86 percent more salad than men who ate with only other men, according to the study, which was recently published in the journal Evolutionary Psychological Science. The amount women ate didn't differ based on the gender of the individual they dined with, but many women indicated they felt as though they overate and were rushed through their meal when they ate with men.
"The choice to eat more is probably not a conscious decision and everyone is different," says Dr. Ashwani Garg, a family medicine physician at Advocate Sherman Hospital in Elgin, Ill. "Everyone should eat until they are happily satisfied without being 'full.' Eat mindfully, pay attention to your food and appreciate your plate of food without making the goal to stuff yourself."
It is known that larger portions can lead to a ballooning waistline, which can cause a person to become overweight or obese, thus increasing the risk for heart disease, high blood pressure, Type 2 diabetes, certain types of cancer, osteoarthritis and gallbladder disease.
"Portions have grown and are too large to support a healthy waistline, yet alone a healthy body," says Nancy Rodriguez, a dietitian at Sherman Hospital. "It also takes a heavy toll on a person's quality of life."
Rodriguez says there are three things people need to know about portion control:
Eating only half is no longer enough. Years ago it was a practical guide to recommend clients eat only half of what is served. Now, to reap the same benefits, one must share with two or more people.
Staying active is very important. As portions continue to increase, physical activity requirements increase to maintain current weight, not just to lose weight.
Try to limit portion sizes by getting a to-go box or sharing with others. The larger the serving, the more one eats. It has been demonstrated that if a person purchases the larger popcorn at the theater, he or she will eat more. The same goes for a plate, the larger the plate size, the more one eats. Society doesn't make combating either one of these easy.
To learn more about men's health, visit ManUpAtAdvocate.com. On the site, men can make same-day appointments, find helpful tips and screening information and also find a doctor.
Related Posts
Comments
About the Author
health enews staff is a group of experienced writers from our Advocate Aurora Health sites, which also includes freelance or intern writers.