Prevent heartburn and acid reflux after Thanksgiving dinner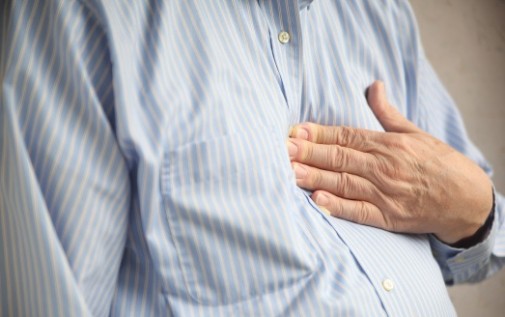 In just a few days, Thanksgiving will mark the start of holiday heartburn.
Some may nibble continuously while others may gobble a large meal. Either way, choosing the right foods and eating small meals may help beat the discomfort heartburn may bring.
Heartburn or indigestion is common, oftentimes caused by overeating certain foods or drinks that contain a high amount of spice, acid or caffeine. Those who frequently experience a burning sensation in their chest may also have a more serious issue called GERD.
GERD, or gastroesophageal reflux disease, is a chronic condition of the digestive system. For those with GERD, acids and other contents from the stomach frequently move back up out of the stomach and irritate the sensitive lining of the esophagus. Other symptoms include sour taste in the mouth and a feeling of a lump in the throat.
According to the American College of Gastroenterology, more than 60 million Americans experience acid reflux at least once a month, and more than 15 million Americans experience it every day.
Dr. Kenneth Chi, a gastroenterologist at Advocate Lutheran General Hospital in Park Ridge, Ill., says the condition can be managed by changing eating habits, staying away from foods and drinks that trigger reflux and taking some over-the-counter medications.
He offers these four tips for managing GERD and heartburn:
Avoid overeating. People get caught up during the holiday festivities and are usually surrounded by an abundant amount of food and eating opportunities. If one already experiences heartburn symptoms, eating smaller and more frequent meals can often help avoid heartburn from ruining a holiday meal.
Avoid eating late at night and lying down too soon after eating. It takes time for food and liquid that is eaten to get digested in the stomach. Lying down too soon after eating a large meal can often trigger regurgitation and heartburn symptoms due to the position of the stomach in a reclined position. Instead, sitting in an upright position and using gravity to help settle food down in the stomach for two to three hours after eating a meal can help prevent these symptoms.
Avoid foods that cause heartburn. People who suffer from heartburn often know the trigger foods that cause symptoms. Common foods include chocolates, caffeine and greasy foods. These foods relax the lower esophagus sphincter muscle, when this muscle is relaxed, the food will go back up and cause heartburn. Other foods that can trigger heartburn include acidic foods such as citrus fruits or carbonated beverages.
Medication. If you take heartburn medications regularly, or require an antacid often, don't forget to take your medications during the busy holiday season. Remember if your symptoms worsen, stop responding to medication or if food feels like it is getting stuck, talk to your doctor immediately.
Related Posts
Comments
About the Author
health enews staff is a group of experienced writers from our Advocate Health Care and Aurora Health Care sites, which also includes freelance or intern writers.