Rare autoimmune disease won't stop man's passion for sports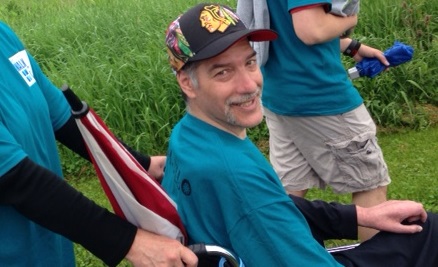 Frank Tanzillo is what most would call a super fan.
"Frank has had a passion for sports his entire life," says his wife, Lori Tanzillo. "He used to play sports in high school and would still be playing for fun at the age of 53 if it wasn't for his dreaded disease."
As early as his 20s, Frank Tanzillo began to experience symptoms of chronic inflammatory demyelinating polyneuropathy (CIDP), a rare autoimmune disease where the body attacks its own tissues. It is a chronic condition that affects men twice as much as women, and the symptoms include tingling in the arms and legs, loss of reflexes, loss of balance and losing the ability to walk.
"CIDP is a condition where the immune system attacks the nerves, thereby causing numbness, muscle weakness, and in more serious cases, can even cause paralysis," says Dr. Ahmir Khan, neurologist at Advocate Good Shepherd Hospital in Barrington, Ill. "Frank himself is quite resilient, and he has a very dedicated wife by his side, and I remain impressed by his ability to deal with such a frustrating and prolonged illness."
As part of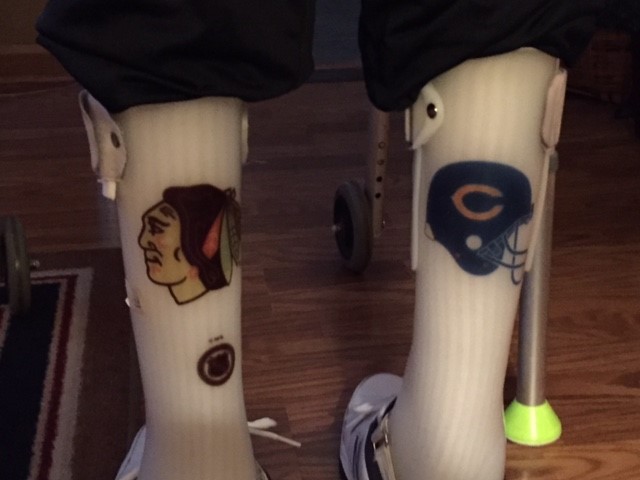 his treatment, Frank Tanzillo visits the hospital weekly for intravenous immunoglobulin (IVIG) therapy.  IVIG contains antibodies from plasma that has been donated from a thousand or more blood donors. These antibodies help to identify and fight bacteria and viruses in the body.
Frank Tanzillo's condition has slowly progressed over the years.  He can no longer speak because he has lost the use of his vocal chords and cannot walk without the use of some assistance, but that doesn't stop him from enjoying the activities he loves like sports. He doesn't miss a Chicago Bears or Chicago Blackhawks game, and has tattooed the Bears logo on the back of his ankle and foot orthotics.
His resiliency has provided him the opportunity take part in the Bears pregame ceremonies on Sunday, Dec. 6, when the Bears play the San Francisco 49ers.
Related Posts
Comments
About the Author
Liz Donofrio, health enews contributor, is a marketing specialist at Advocate Health Care. As a newlywed, she is happy to be done planning her wedding and enjoying spending time with her husband and new extended family. In her free time, you can find Liz cooking new tasty recipes for her family, attending Chicago sporting events and chasing after her shih tzu-yorkie, Buttons.