10 ways to avoid holiday weight gain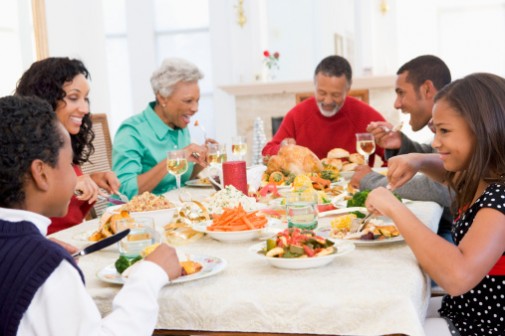 The season is fast approaching for many things — time spent with friends and family, frenzied shopping, good cheer and, for many, overindulgence in some of their favorite foods.
So, how do people avoid the possible weight gain that comes with the holidays?
Dr. Arturo Olivera, Jr., gastroenterologist at Advocate Illinois Masonic Medical Center in Chicago, shares his top 10 tips to keep people at their pre-holiday weight.
Choose a smaller plate for meals — If you're a member of the Clean Plate Club, avoid temptation by filling up a smaller plate. You'll trick yourself into feeling like you've had enough and be less tempted to overeat.
Avoid processed foods and sweetened beverages — Though this is true year-round, it's especially important to pay attention to what you're eating at holiday gatherings. Avoid the empty calories of processed foods — generally anything that comes in a can, box or bag — that are full of preservatives, artificial ingredients and sweeteners. Try to stick to all-natural foods.
Avoid unhealthy snacks between meals — Cookies, candies and cakes, oh my! The holidays are filled with bite-sized temptations no matter where you go. Be prepared by knowing what tempts you and keeping the snacking to a minimum. This is especially important at holiday gatherings, where you may not be paying much attention to exactly how much you're snacking on.
Eat fresh foods such as fruits and vegetables — Natural sugars will help to take the edge off the temptations of holiday sweets. Fill up on wholesome foods — anything that comes in its own natural package — to avoid the empty calories. Again, avoiding processed foods is key.
Drink more water to maintain fullness — Fill your tank with water instead of snacks, sodas or juices. Water will help fill you up and fool your stomach into thinking you're full. Plus, maintaining your hydration in the dry winter months is an added bonus.
Bring your own healthy appetizer or dessert to holiday gatherings — When attending a holiday gathering, bring your own healthy contribution to take the guesswork out of whether you'll have healthy options. You'll know exactly what went into it and be able to count your calories effectively.
Arrive at gatherings later and leave earlier — For many people, holiday eating is part of being social. Try limiting the time you're tempted to eat more by adjusting your arrival and departure. You don't need to avoid gatherings altogether; simply remove yourself from the temptation, if necessary.
Eat before 7 p.m. to aid digestion — Give your body plenty of time to properly digest your food by not eating too close to bedtime.
Get at least seven to eight hours of sleep each night — Speaking of bedtime, make sure you stick to yours and get plenty of sleep. Proper sleep to make certain you're well rested can help to avoid the urge to overeat. Again, giving your body plenty of time to rest and properly digest the food you've eaten will help you avoid extra pounds the whole year round.
Stay physically active — Though we do lots of running around during the holiday season, we may not make the time for a proper workout. Make sure you schedule some physical activity between turkey dinners, parties and trips to the mall. Staying physically active will help remove your temptation to overeat.
"By being prepared and thinking about what you're putting into your body, you'll be able to get ahead of the season's weight gain before you sit down to your Thanksgiving meal or go to your first holiday party," Dr. Olivera says. "But, don't worry too much about it — you don't want it to ruin your holiday season."
Related Posts
Comments
About the Author
health enews staff is a group of experienced writers from our Advocate Aurora Health sites, which also includes freelance or intern writers.