Blog: Why I say no to the Elf on the Shelf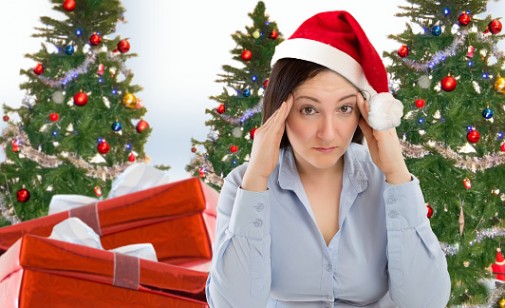 For many, family traditions are the cornerstone of memory-making during the holiday season. One of the more recent traditions adopted by American families is the Elf on the Shelf, which started in 2005 with the publication of a book about an elf who reports children's behavior back to Santa in the North Pole.
According to the Elf on the Shelf website, once an elf is adopted and named, he earns his Christmas magic and can fly to the North Pole to inform Santa about the day's adventures. Each morning, the family awakens and finds the elf in delightful vignettes that showcase his evening escapades. While the elf's presence is intended to remind children to mind their manners, it seems the elf can get himself into some naughty situations, such as making a mess in the kitchen, writing messages to the family in toothpaste on the bathroom sink, or even coloring Rudolph noses on the children's faces while they sleep.
I wish I had it in me to find joy in using dry erase marker to make mustaches on my family pictures, or to stage a mini-marshmallow snowball fight on my kitchen counter in the name of creating elfin magic for my children. I'm certain the looks on their faces would be priceless if they came down to breakfast and found the elf head-first in the cookie jar.  I am certain that the pranks from Santa's elf could also be used as great points of discussion and learning opportunities for my kids. But, I just can't do it.
Between the Advent calendar, school parties, removing a link from the chain countdown to Christmas, cookie baking, card writing, Santa visiting, good cheer spreading, friend visiting, and school volunteering, I just can't bring myself to expend the energy on an elf. I can't bring myself to intentionally make a mess in my rarely-clean house.  I might be able to get behind the concept of an elf who assists with chores, or makes dinner. But an elf that makes more work for me? I just can't do it.  I'm not a Grinch – I love the season. I'm just saying I know my limits.
I once tried to create magic from the Tooth Fairy and my daughter woke up looking like a glittery Phantom of the Opera. Apparently, the lid was open more than I realized as I shook the jar over her sleeping head.
I have enough mythical creatures in my house with Santa, the Tooth Fairy, the Easter Bunny and my children's assortment of imaginary friends.  So while I admire the parents that can support one more (I have heard some families have adopted more than one Elf!) of Santa's Elves, this momma just says NO.
I'm saying no to staying up late in order to make the powdered sugar snow angels, or to stage the elf who gets tangled in the Christmas tree. I'm most definitely saying no to the elf sitting on the toilet who has dropped peppermint candy poop into the toilet bowl. Instead of adding one more item to my to-do list that is going to keep me up at night scouring the internet for clever elf hiding spots, or slaving in my kitchen frosting elf-size donuts, or creating a bubble bath for a toy, I am choosing to let this tradition pass me by.
This year, I am saying yes to going to bed at a reasonable hour so that I have energy to find shoes and missing school papers in the morning.  I am saying yes to sitting next to the Christmas tree and singing carols. I am saying yes to one more story and yes to watching the kids' remake of The Nutcracker.  I am saying yes to keeping my sanity, which in my house, means saying no to the Elf on the Shelf.
If anyone knows of an elf that will bring me donuts, or let me take a bubble bath, I'm all ears.
Related Posts
Comments
About the Author
Jen Frey, health enews contributor, manages the Transportation Department at Advocate Condell Medical Center. Jen has a journalism degree from the University of Wisconsin-Madison and her master's degree in Recreation Administration from Aurora University. Jen's favorite things include traveling with her children, exercising and finding a great bargain.