What you should know about going to the eye doctor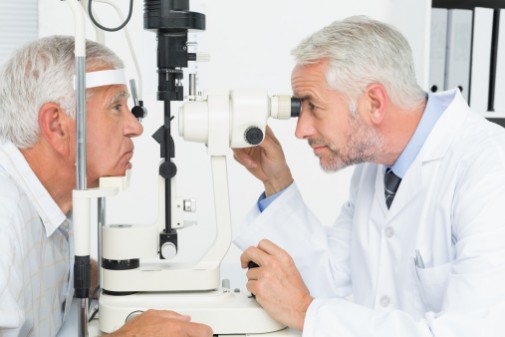 Vision is a vital part of everyday life for people of all ages, but sometimes taking care of it drops to the bottom of the to-do list.
"It's important to make and attend regular eye appointments with your doctor," says Dr. Osvaldo Lopez, chief of the ophthalmology section at Advocate Illinois Masonic Medical Center in Chicago. "Regular appointments can help detect problems early on and correct issues you may not notice yourself."
When should you see an eye doctor?
Vision can change drastically throughout a person's life and can effect development at a young age and performance at school and work later on.
Take a look at the chart below with recommendations from the American Optometric Association (AOA) to see if you might be due for a check-up.
| | |
| --- | --- |
| Age | Recommendation |
| 6 months of age | Babies should receive their first eye examination at 6 months old. |
| 3 years of age | A child should receive another full examination at the age of three. See a doctor sooner if you notice potential signs of vision problems or if recommended to do so by a doctor. |
| 5 years of age | A child should receive another full examination at the age of 5 unless recommended to do otherwise by a doctor. |
| 6 – 18 years of age | School-aged children should see an eye doctor every two years. More frequent visits may be necessary if any vision problems are found. |
| 19 – 40 years of age | Continue to receive an eye exam at least every two years. If you or your family members have a history of vision problems, ask your doctor if you should check in more often. |
| 41 – 60 years of age | Vision changes are common during this time. While the recommendation remains to see an eye doctor every two years, you should make an appointment sooner if you notice changes in your ability to see at close distances or experience blurred vision. |
| Over 60 years of age | Annual eye examinations are recommended for people over 60 years of age, as you become more susceptible to eye diseases at this age. |
In addition to the recommended appointments, Dr. Lopez says that maintaining a healthy lifestyle and wearing sunglasses when necessary can also help maintain good eye health. He also advises seeing an eye doctor as soon as possible if you're experiencing blurry or double vision, itching, red eye or sensitivity to light, among other irritants.
Which type of eye doctor is right for you?
Two-thirds of all patients in the United States rely on doctors of optometry as their primary eye care providers, according to the AOA. However, some may choose to see an ophthalmologist based on their eye care needs.
Optometrists can test your sight and provide prescriptions for corrective lenses if necessary. They also work to detect eye abnormalities and treat conditions such as dry eyes and astigmatism.
Ophthalmologists are qualified to perform surgical procedures such as cataract surgery and LASIK surgery. They can also examine and treat all conditions of the eye, including administering vision tests and prescribing corrective lenses, according to The American Academy of Ophthalmology.
"Each patient requires a unique plan of care. A patient who has little to no history of vision problems may opt to see an optometrist, while patients with more complex cases may choose or be referred to an ophthalmologist," says Dr. Lopez. "The most important thing is for patients to receive the care they need from the doctor who is right for them."
Related Posts
Comments
About the Author
health enews staff is a group of experienced writers from our Advocate Health Care and Aurora Health Care sites, which also includes freelance or intern writers.