Is your child's back pain more than just a growth spurt?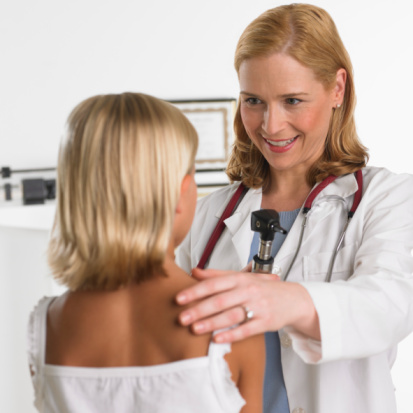 According to new research, published in the Journal of American Academy of Orthopedic Surgeons, nearly one in three adolescents report back pain and are seeking medical care. Although parents may be willing to shell out for expensive tests like MRI scans to pinpoint the issue, the exact cause may not be clear.
Dr. Suken A. Shah, study author and division chief at Nemours Spine and Scoliosis Center, explained that a clinical, physical examination and imaging may not provide a clear cause of back pain. The study noted that possible reasons for back pain can include "muscle strain, poor posture, too much training in a single or multiple sports in a season, or too little activity and not enough exercise."
Dr. Steven Mardjetko, a pediatric orthopedic surgeon with Advocate Children's Hospital in Morton Grove, Ill., says there are many causes for back pain in children, including muscle strains from sports or new activities, and carrying book bags over shoulder bags.
Book bags should be less than 10 to 20 percent of a child's body weight, Dr. Mardjetko explains.
"A parent is always wise to take a child's back pain seriously," he says. "If your child is experiencing unusual back pain and it persists over six weeks, see a pediatrician or pediatric spine specialists. It is a mistake to ignore a child with a persistent back complaint. Never discount that pain as benign."
Adolescents go through growing pains at different times depending on gender. Boys go through their growth spurt from 12 to 16 years old, while girls go through their growth spurt from 10 to 14 years old. Typically abnormal adolescent spine conditions manifest during this time period, so it is crucial to seek assistance if back pain is a regular occurrence.
Dr. Mardjetko suggests parents pay special attention and inform a pediatrician when their children starts experiencing back pain that persists or has:
Changes in their posture
Change in their bowel movements or bladder
Systemic symptoms such as fevers or weigh loss
Changes in their activity levels
Neurologic complaints
For tips on how to choose the right backpack, click here.
Related Posts
Comments
About the Author
Tiffany Nguyen, health enews contributor, is a public affairs and marketing intern at Advocate Support Centers in Downers Grove, IL. She is a graduate of Northern Illinois University with a degree in public health. She is currently pursuing a Master's in Business Administration focusing specifically on healthcare management at Lewis University. Tiffany enjoys hanging out with her friends, exploring new restaurants, and binge watching Netflix shows.