When my baby needed heart surgery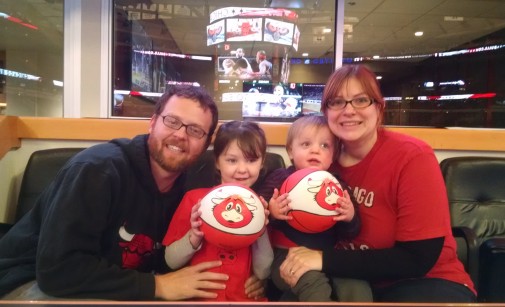 My son Harrison Renz was born on August 8, 2013 and physicians gave him a clean bill of health, but just five days later when I brought him to his first well baby check-up appointment, his pediatrician discovered a heart murmur that was large enough to hear with a stethoscope and recommended that we bring Harrison to a pediatric cardiologist.
After numerous tests, the doctor diagnosed Harrison with Atrial Septal Defect (ASD) – a hole in the wall between the upper two chambers of the heart and Ventricular Septal Defect (VSD) – a hole in the wall that separates the left and right ventricles of the heart. The doctor told us that Harrison's heart needed to be surgically repaired but first he needed to gain weight. This was challenging because his heart was working harder than it should have been to pump blood throughout the body and as a result he was burning a lot more calories than a typical baby. However, after a few months of documenting everything he ate and weighing him on a regular basis, he was at a healthy weight for surgery.
My husband, Dan and I had to decide who should perform the surgery. We had heard about Dr. Michel Ilbawi, a pediatric cardiac surgeon with Advocate Children's Heart Institute, from one of Dan's co-workers whose son had successful surgery when he was younger and is now 20 years old. And so we decided that he was the perfect choice.
From the moment that we met Dr. Ilbawi and the staff at Advocate Children's Hospital, we knew we made the right decisions. They were very patient with a worrisome mother's many questions and explained everything in a way that put Dan and I at ease.
I remember the way the staff calmed our needs during a pre-surgery meeting. And on the morning of surgery, the nurses were extra sweet to us.  Harrison was a little fussy probably because he had not being able to eat as he was fasting for surgery, and the nurses did a mini song and dance to entertain him (and us). As we waited for Harrison in the waiting room, the nurses that gave us updates about Harrison's surgery as it was happening. This helped us to relax a little knowing all was going well.
Harrison's surgery was a success! Dr. Ilbawi placed a Goretex patch on the VSD to close the hole and stitched up the ASD with "thread" since it was a smaller hole. We kept a scrap fabric from the Gortex patch and it is great to have as a reminder of what a trooper Harrison is.
Harrison's recovery was much quicker than we expected and I like to think it was partially due to the outpouring love that the staff had for our son as well as the knowledgeable medical staff working at Advocate Children's Hospital.
Today, Harrison is a very active toddler that loves running with and goofing around with his sister, playing with cars, reading books and snuggling. He is a very affectionate and funny boy.
Related Posts
Comments
About the Author
Katie Renz has taught the Deaf and Hard of Hearing and general Special Education for the last 10 years.  The last 7 years have been at Batavia High School. In her spare time, she enjoys crafting, expanding my education and making cakes.  Her husband, Dan, is a Science teacher at Batavia High School.  Together they enjoy spending time with their children and family.