El Salvadorian teens receive life-changing procedure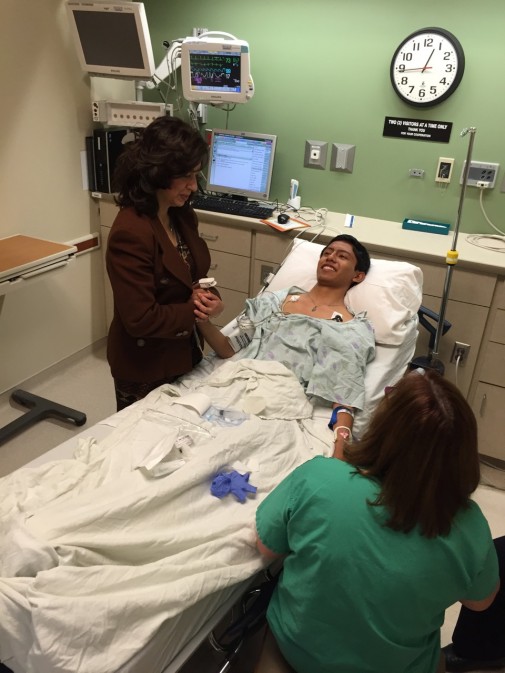 Daniela, Mayra and Edwin had never traveled outside of El Salvador before, but just last year in December they flew across the Gulf of Mexico to Barrington, Ill., where they received life-changing surgery at Advocate Heart Institute at Advocate Good Shepherd Hospital.
The teens have Wolff-Parkinson-White syndrome, a condition where the heart's upper chambers and lower chambers cause rapid heartbeats due to an extra electrical pathway. Some of the symptoms include shortness of breath, rapid heart rate and heart palpitations.
To fix the problem, cardiologists Dr. Mehran Jabbarzadeh and Dr. Eric Kessler, along with a team of nurses and caregivers, performed a cardiac ablation on each of the children. A cardiac ablation procedure finds the areas causing the abnormal heart rhythm, which allows doctor to use mild radio frequency heat energy to prevent the abnormal electrical signals from occurring.
"These patients are born with an extra pathway in their heart that is responsible for the episodes of very fast heart rate," says Dr. Jabbarzadeh. "In this procedure, we introduce wires via multiple IV accesses and advanced them to the heart. Wires let us pinpoint the location of the extra pathway and eliminate it by applying heat to tip of our wire."
While in the states, Daniele, Mayra and Edwin stayed at the Barrington home of Stephanie and Keith Hanson, who volunteered to host the teens as foster parents for the duration of their stay. The Hanson's helped the teenagers travel to-and-from the hospital for testing, surgery and checkups.
Their condition caused the teens to be very consciousness about their daily activities, but after the procedure, they were able to go sledding, and have been participating in activities outdoors and being more active than they could have ever done before.
Dr. Kessler says he feels honored to have been a part of these teenagers' lives.
"Like most physicians, I entered the field because I was excited and gratified by the opportunity to make a positive impact on people's lives," he says. "That's why this is such a great program, we are able to provide access for these children that they would otherwise likely never receive, and the benefits will last them a lifetime."
Advocate Good Shepherd Hospital has partnered with Healing the Children and have handle over 20 cases for youth in children from Guatemala. The organization helps to identify critically ill children and brings them to the United States to receive the care they desperately need to live a healthy life.
Jeff Degner, president of the Illinois and Indiana chapter of Healing the Children, has worked with the hospital on nearly 20 cases where they have provided health care services to teenagers from Latin America.
"Daniela, Mayra and Edwin will be receiving so much care and love from so many people along the way," says Degner. "They help to remind us all of some of the things we tend to just take for granted, like a teenagers ability to run and dance and play. It is my pleasure to be a part of their journey and to partner, once again, with Advocate Good Shepherd Hospital."
Healing the Children is a nonprofit, volunteer charity organization whose mission is to bring vital medical aid to kids in need. Click here for more information.
Related Posts
Comments
About the Author
Liz Donofrio, health enews contributor, is a marketing specialist at Advocate Health Care. As a newlywed, she is happy to be done planning her wedding and enjoying spending time with her husband and new extended family. In her free time, you can find Liz cooking new tasty recipes for her family, attending Chicago sporting events and chasing after her shih tzu-yorkie, Buttons.