Proof men feel worse when ill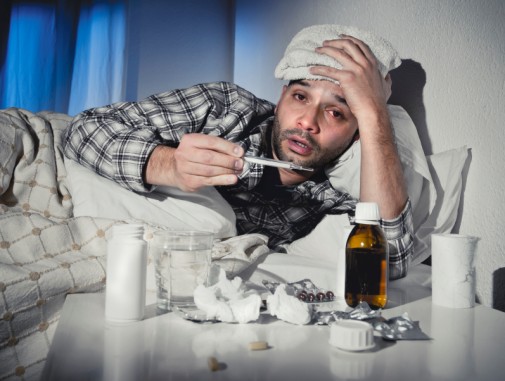 A recent study found that the "man flu" is real and men are affected differently than women when it comes to the flu.
According to Urban Dictionary, the "man flu" is a condition where a common illness like a mild cold is presented by the patients as life-threatening.
Researchers at John Hopkins Bloomberg School of Public Health found that there is genetic reasons that women react better when they are sick. According to researchers, estrogen can help protect females by shielding their bodies from the more aggressive symptoms.
To better understand their findings, study leaders collected cells from nasal passages in male and female donors. The cell cultures were exposed to the virus, estrogen, the environmental estrogen bisphenol A and selective estrogen receptor modules (SERM) – compounds that act like estrogen and are used in hormone therapy.
Study leaders determined that estrogen, SERM compound raloxifene and bisphenol A reduced flu virus replication in nasal cells from women.
However, they were not found to reduce the virus in men.
In addition, the team found that the estrogens initiated their antiviral effects through estrogen receptor beta. Receptors are protein structures that bind with molecules to promote cell response.
"This is the first study to identify the estrogen receptors responsible for the antiviral effects of estrogen, bringing us closer to understanding the mechanisms mediating this conserved antiviral effect of estrogen," said Dr. Sabra Klein, study author and associate professor in the Department of Molecular Microbiology and Immunology and Biochemistry and Molecular Biology at the Bloomberg School, in a news release.
The findings could be particularly important for elderly women, she said, since this population is most susceptible to severe influenza.
"Being on hormone replacement therapy could be one way to mitigate the severity of this disease, which is exciting, simple and cheap," Dr. Klein said. "While the decision to take hormone therapy should always depend on a patient's history and include discussion with their care providers, our study shows another potential benefit to this hormone."
According to the U.S. Centers for Disease Control and Prevention, it is estimated in the United States that an average of 5 to 20 percent of the population gets the flu and 200,000 people are hospitalized from seasonal flu-related complications each year.
Flu seasons are unpredictable and can be severe says the CDC. Some people, such as older people, young children, pregnant women, and people with certain health conditions, are at high risk for serious flu complications. For not, the best way to prevent seasonal flu is by getting a flu vaccination.
Related Posts
Comments
About the Author
health enews staff is a group of experienced writers from our Advocate Health Care and Aurora Health Care sites, which also includes freelance or intern writers.