Can circuit training put a strain on your heart?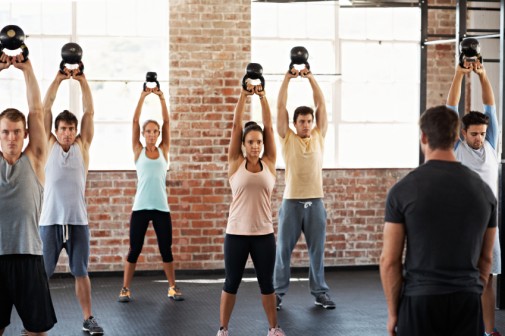 New fitness crazes emerge all the time and it's hard to tell which ones really work. One such trend is circuit or interval training.
These workouts involve moving quickly through multiple high-intensity exercises, driving your heart rate up near its max.
People may question if this is a healthy way to get fit or a worrisome strain on your heart. But the motivation behind the workout trend might surprise you.
"Challenging physical activity is recommended to achieve maximum health, but it is possible to do too much," says Dr. Ajay Baddi, a cardiologist at Advocate Heart Institute at Illinois Masonic Medical Center in Chicago. "While exercising, it's ideal to hit your target heart rate. This will ensure you get the most out of your workout without putting undue stress on the heart."
According to the U.S. Centers for Disease Control and Prevention, the target heart rate for moderate-intensity physical activity is 50 – 70 percent of the person's maximum heart rate. For vigorous-intensity physical activity, the target heart rate is 70 – 85 percent of the person's maximum heart rate.
Maximum heart rate can be estimated based on age. A good rule of thumb is to subtract your age from 220 to find your maximum number of beats per minute (bpm), or your maximum heart rate. Use this calculation to find your target heart rate for your desired level of exercise. The American Heart Association also offers a convenient chart for your reference.
"While exercising, periodically check your heart rate by checking your pulse," explains Dr. Baddi. "Press the tips of your pointer finger and middle finger against the blood vessels on the inside of your wrist. Count your pulse for one minute to find your heart rate and make sure it's within your target zone. If it's too low, try challenging yourself. If it's too high, slow it down a little."
Fitness centers that offer this type of workout, such as Orangetheory or Shred 415, are becoming more and more popular. Dr. Baddi recommends researching any gym before joining to make sure it's a good fit for you and your health goals.
"All physical activity can provide great health benefits," says Dr. Baddi. "Make sure you keep your personal goals in mind when choosing a workout and, if it's in a class environment, ask questions or request modifications when necessary."
Dr. Baddi adds that people with certain health conditions or taking certain medications may have a lower target heart rate. He recommends checking with your physician before beginning an exercise routine so you can customize your activity and reach your goals safely.
Related Posts
Comments
About the Author
health enews staff is a group of experienced writers from our Advocate Aurora Health sites, which also includes freelance or intern writers.