When you need open heart surgery at age 36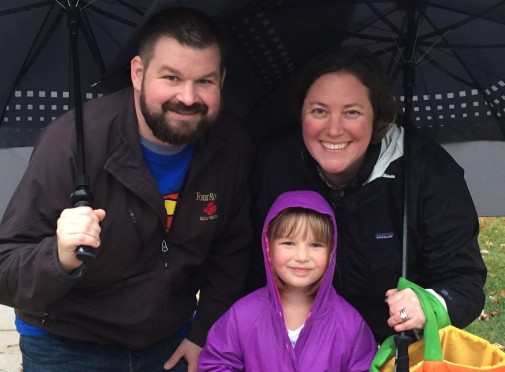 In 2015, my life changed forever when I was diagnosed with severe congestive heart failure with three blockages in the main arteries to my heart and signs of two previous heart attacks.
The news came as a complete shock to me, as I'm only 36 years old. I had been feeling under the weather for some time and, initially, my family doctor prescribed multiple rounds of antibiotics for what we thought was just bronchitis and a respiratory infection.
But after my symptoms worsened, I underwent an EKG and echocardiogram. Dr. Mahesh N. Raju, an interventional cardiologist at Advocate Heart Institute at Good Samaritan Hospital in Downers Grove, Ill., reviewed the results and realized I had multiple underlying heart issues.
He immediately consulted with Dr. Ali A. Valika, an Advocate Heart Institute cardiologist at Good Samaritan Hospital, and I underwent additional tests. The doctors told me my right coronary artery was completely blocked, my left anterior descending artery was 90 percent blocked and my left circumflex artery was 50 to 60 percent blocked. The rest of my heart seemed to be "hibernating," I was told, from the damage that occurred from the heart attacks and the blockages.
Because my heart wasn't yet stable or strong enough for open heart bypass surgery right away, my doctors sent me home wearing a heart monitor designed to detect abnormal heart patterns and shock my heart back into a correct rhythm if needed (it also could deliver a lifesaving shock if my heart were to go into sudden cardiac arrest). I was also referred to Good Samaritan Hospital's outpatient heart recovery program, which I visited on a weekly basis.
Last September, I underwent triple bypass open heart surgery with cardiovascular surgeon Dr. Antone Tatooles with Advocate Heart Institute at Christ Medical Center in Oak Lawn, Ill., to re-vascularize my heart and repair the blocked arteries. The surgery was a success.
I then returned to Good Samaritan Hospital for continued monitoring in the heart recovery program and in the three-phase cardiac rehabilitation program. I'm still in cardiac rehab, where I attend class three times a week to strengthen my heart and cardiovascular system.
In December, I received good news at my 90-day post-surgery checkup: My ejection fraction, which measures how well my heart is pumping blood, had risen from 20 percent to 40 percent (normal level is 55 to 65 percent). According to my doctors, the improvement is due to a combination of surgery, medication and the cardiac rehabilitation program.
I agree with them, but I also know my recovery has a lot to do with the excellent care I received from the entire team at Good Samaritan Hospital. For that, I thank them on behalf of myself, my wife and my 5-year-old daughter.
Related Posts
Comments
About the Author
Brian Krieger is a 36-year-old Lisle resident who was diagnosed with congestive heart failure, a disease that affects six million Americans. He was treated at Advocate Good Samaritan Hospital and Advocate Christ Medical Center. Because of Advocate Health Care's partnership with the Chicago Bears, Krieger had the opportunity to hold the "Bear Down" flag during player introductions at the Bears Jan. 3 home game against the Detroit Lions.