Video games encourage kids to get moving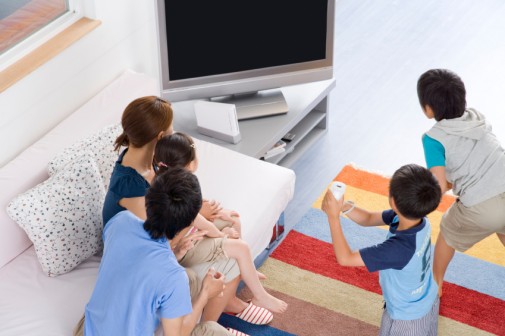 With the rate of childhood obesity continuously rising, many blame video games for children's lack of interest in physical activity.
However, the University of Tennessee-Knoxville published a study in Games for Health Journal that suggests active video games may be a new mechanism to encourage children to be more physically active.
A study presented in JAMA Pediatrics demonstrated the effectiveness of active video games and weight loss. Of the 75 kids in the study, the group that participated in an interactive video game program lost an average of 4 pounds over a year's time, while members of the control group, which didn't get a video game, did not show any significant change in time, exercising or weight loss.
Dr. William Smiley, a pediatrician for Advocate Children's Hospital in Park Ridge, Ill., believes that while there are benefits to fitness video games, nothing can replace outdoor play. He suggests one key to increasing physical activity for both children and adults is scheduling the activity, which means actually writing the activity down in the calendar.
"It's easy to tell yourself that you need to go to the gym later or run on the treadmill, but then life happens and suddenly, the activity gets pushed to the back burner. When the activity is written down on the family calendar, parents and children are more likely to commit to it," says Dr. Smiley.
According to Consumer Reports, these are the best fitness video games available:
"Nike+Kinect Training": Best option for people looking to maintain a serious workout routine
"Zumba Fitness": Dance-based workouts focused on cardiovascular fitness
"Just Dance 4": Variety of dance routines and a setting designed specifically for fitness
"Your Shape Fitness Evolved 2013": Customizable workouts and a multiplayer mode for up to four people
Although, Dr. Smiley can see the benefits of video games to help get kids moving, he does recommend that parents limit their child's screen time to under two hours a day. He also encourage more playtime outdoors. And while these games may encourage kids to get active, they may not be as beneficial in terms of skill development.
"The intensity of the physical activity with the fitness games has the potential to mimic that of real life activity. Of course, it all depends on how the child is using the game. If he has mastered the art of just flicking his wrist to hit a cross-court winner, he's not getting the necessary intensity of physical activity."
Dr. Smiley encourages parents to take an active role in selecting games for kids that require them to be more physically active, regardless of the season.
"A major advantage of outdoor play over fitness video games is the social interaction skills that kids develop with interactive outdoor play."
Parents looking for more tips on how to keep their children active can check out Ways to Enhance Children's Activity and Nutrition, or WE CAN, a program developed by the U.S. Department of Health and Human Services and the National Institute of Health.
Related Posts
Comments
About the Author
Tiffany Nguyen, health enews contributor, is a public affairs and marketing intern at Advocate Support Centers in Downers Grove, IL. She is a graduate of Northern Illinois University with a degree in public health. She is currently pursuing a Master's in Business Administration focusing specifically on healthcare management at Lewis University. Tiffany enjoys hanging out with her friends, exploring new restaurants, and binge watching Netflix shows.