Dynamic approach improves sun safety, study finds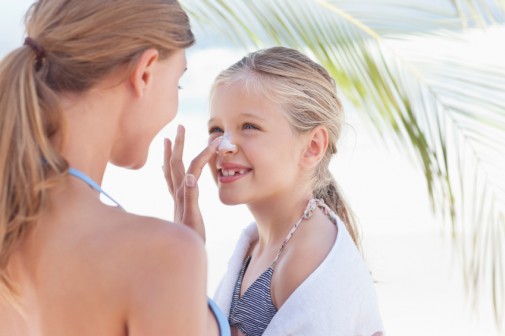 With spring break around the corner, sun safety may be top of mind for families.
A multi-tactical sun safety program has found that when the whole family is involved, kids are more protected from sun exposure.
Researchers shared that using other approaches on top of sunscreen application can increase the likelihood of children's skin being properly shielded from harmful UV rays, according to a new study published in the February online edition of JAMA Pediatrics.
The study, completed in the summer of 2015, set out to find whether families who were assigned to an intervention program would increase their sun protection. Study participants included 300 families with a child between two and six years of age who had visited a pediatrician in an Advocate Medical Group office.
Of the 300 families, half were enrolled in the sun safety program and received sun-protective shirts, weekly text-message reminders related to sun safety and colorful picture books that highlighted sun protection habits. The control group was only given sun safety handouts during an appointment with their pediatrician.
To determine the effectiveness of the sun safety program, researchers used skin pigment testing to measure the change in a child's melanin levels (skin tones) from the start to the end of the trial. Parents also were asked to self-report if their kids wore sunscreen or sun protective clothing throughout the summer.
At the end of the trial, researchers determined that children enrolled in the sun safety program were more likely to use sun protection by regularly applying sunscreen or wearing a shirt with sleeves. Additionally, children in the intervention group did not have a significant change in skin pigment compared to children in the control group, who had a large increase in their melanin levels over the four-week trial.
"This study proves that education and regular reminders can help reinforce healthy sun protection behaviors," says Dr. Kimberley Dilley, a pediatrician at Advocate Children's Hospital in Oak Lawn, Ill., and a co-author of this study. "The read-along book that emphasized positive sun protection habits was really intended to engage both the parent and the child. After reading this book, children could be their own advocate for sun safety and remind their parent that they should be wearing sunscreen."
Awareness and education on sun safety habits is important for kids, as melanoma is one of the most common cancers in people younger than 30, according to the American Cancer Society.
Dr. Dilley explains that both kids and adults face dangerous effects of overexposure to the sun.
"The most common short-term effect of sun exposure is a sunburn, and the more long-term implication of a sunburn is melanoma," says Dr. Dilley. "People who experience even just one sunburn in their life are more likely to get melanoma than someone who has never been burnt."
The study concluded that the multicomponent sun safety program was effective in increasing sun protection behaviors while also minimizing biologic measures of sun damage as measured through the skin pigment testing.
"Fostering sun protection behaviors in childhood may help children decrease their future risk of skin cancers," said lead researcher Dr. June K. Robinson and colleagues.
Related Posts
Comments
About the Author
Julie Nakis, health enews contributor, is manager of public affairs at Advocate Children's Hospital. She earned her BA in communications from the University of Iowa – Go Hawkeyes! In her free time, she enjoys spending time with friends and family, exploring the city and cheering on the Chicago Cubs and Blackhawks.