Support group empowers women with heart disease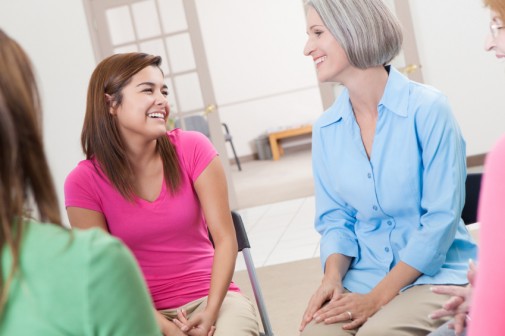 Debbie Dunn experienced a rollercoaster of emotions after her heart attack.
She was in her 40s at the time, so disbelief struck first. But soon after the shock wore off, and despite support from her husband and children, a feeling of isolation set in.
"It was like being pregnant and not knowing other pregnant women or moms," Dunn says. "I knew women had heart attacks, but where were they all? I started to feel very lonely."
As Dunn grew stronger and healthier, her determination to make a difference in the lives of other female heart attack survivors grew too. In 2002, she became a spokeswoman for the American Heart Association. Then, two years later, she learned about WomenHeart, a national patient-centered organization that focuses exclusively on women's heart disease.
WomenHeart was forming a network of support groups across the country, and Dunn wanted to be part of the awareness-raising groundswell. A Libertyville, Ill.resident, she underwent extensive training at Mayo Clinic in Rochester, Minn., and in 2005 she was ready to lead a support group on her own in Chicago's north suburbs.
Eventually two members of her groups, Marla Cowan and Marla Kalish, joined her as leaders. Cowan, a breast cancer survivor who had open heart surgery, and Kalish, who has about half a dozen stents keeping arteries open to carry blood from her heart to other parts of her body, also underwent training at Mayo.
Today Dunn, Cowan and Kalish run three WomenHeart support groups in the north suburbs. All three groups meet at hospitals, with one of them meeting monthly at Advocate Condell Medical Center in Libertyville. The meetings are free and open to all women with heart disease and meet every Tuesday at 6:30 p.m.
Their goal is simple: Empower the groups' members. Sometimes that's done through educational sessions with guest speakers. Sometimes that's done by listening to each other and sharing the personal triumphs only other women living with heart disease understand. They build trust by providing peer-to-peer support, information and encouragement.
"Often when members are frightened or angry after a major health event they find the emotional support and education they need in our group," Dunn says. "Doctors and nurses on staff address various issues of interest to the ladies with ample opportunity for questions."
Dunn says that other meetings are strictly for sharing stories and concerns and raising questions about medications and treatments.
"A nurse is always present to advise on medical issues, and the ladies share laughter and tears but always leave uplifted, informed and more empowered," she says.
Many of the women have been with the group since its inception, a testament to the power of support groups.
"Slowly, meeting after meeting, they blossom," Dunn says.
Some members have faced challenging obstacles, including misdiagnosis, inadequate treatment and social isolation. Misdiagnosis can be a problem because the signs and symptoms of heart attack in women can be overlooked.
According to the American Heart Association (AHA), warning signs of a heart attack in women are:
Uncomfortable pressure, squeezing, fullness or pain in the center of your chest. It lasts more than a few minutes, or goes away and comes back.
Pain or discomfort in one or both arms, the back, neck, jaw or stomach.
Shortness of breath with or without chest discomfort.
Other signs such as breaking out in a cold sweat, nausea or lightheadedness.
As with men, a woman's most common heart attack symptom is chest pain or discomfort. But women are somewhat more likely than men to experience some of the other common symptoms, particularly shortness of breath, nausea/vomiting and back or jaw pain, according to the AHA.
Talking about their experiences can be healing for members, Dunn says, but no one is pressured to offer more than they are comfortable sharing.
She has this advice to women who are interested in attending a meeting but are apprehensive about taking that first step: Do it for you.
"Women are always so focused on the needs of others. As wives, as mothers, as friends, we want everyone to be healthy and happy. We should want that for ourselves, too," she says. "Women look forward to attending. They leave stronger and more confident than when they arrived."
For more information about the WomenHeart Support Group that meets at Advocate Condell Medical Center, contact Debbie Dunn at stressfreelife7@gmail.com.
Do you know your risk for heart disease? Take Advocate Heart Institute's online heart risk assessment. If you are at high risk, see an Advocate  cardiologist within 24 hours.
Related Posts
Comments
About the Author
Kathleen Troher, health enews contributor, is manager of public affairs and marketing at Advocate Good Sheperd Hospital in Barrington. She has more than 20 years of journalism experience, with her primary focus in the newspaper and magazine industry. Kathleen graduated from Columbia College in Chicago, earning her degree in journalism with an emphasis on science writing and broadcasting. She loves to travel with her husband, Ross. They share their home with a sweet Samoyed named Maggie.