New therapy brings hope for pancreatic cancer patients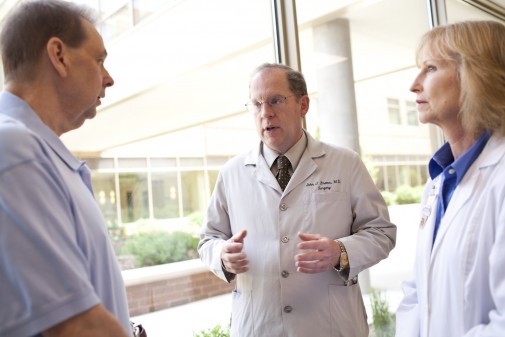 Just a few weeks after announcing his diagnosis of pancreatic cancer, Southern novelist Pat Conroy, best known for The Prince of Tides, has lost his battle with the aggressive disease.
Unfortunately, this is a common story for those diagnosed with late stage pancreatic cancer. It is one of the deadliest cancers because it is difficult to detect early, spreads quickly and has few treatment options, according to the American Cancer Society.
Until now.
A new treatment now available at Advocate Sherman Hospital in Elgin, Ill., is giving patients with locally advanced pancreatic cancer new hope for a longer life.
At the Center for Advanced Liver and Pancreatic Care, pancreatic cancer patients may be eligible for a new therapy called irreversible electroporation (IRE) using a technology called the NanoKnife system. A surgeon and an interventional radiologist work side by side to locate the hard to reach tumor and place the NanoKnife electrodes around it to "shock" it with nanosecond electrical pulses. These pulses damage and kill the tumor tissue.
A recent study published in the Annals of Surgery involving 200 Stage III pancreatic cancer patients found that this breakthrough treatment may double survival rates from 11-13 months to 23-28 months when used in conjunction with conventional treatments such as chemotherapy and radiation.
Dr. John Brems, a liver and pancreatic surgeon at Advocate Sherman Hospital, has used IRE on eight patients with locally advanced pancreatic cancer (meaning the cancer has not spread beyond the pancreas) with promising results.
"The majority of pancreatic cancer patients are not candidates for surgery, so our ability to treat them has been limited," says Dr. Brems. "IRE now provides us an alternative treatment to use in conjunction with chemotherapy and radiation therapy to prolong life expectancy and improve quality of life for these patients."
Pancreatic cancer in its early stages does not usually produce symptoms, so early detection is very difficult. Later stage symptoms include jaundice, dark urine, abdominal or back pain, weight loss or digestive problems.
"Because detection can be difficult, it is important to maintain annual physical exams with your physician," says Dr. Brems. "Be vigilant and see your doctor at the first sign of any of these symptoms."
Related Posts
Comments
About the Author
Tonya Lucchetti-Hudson, health enews contributor, is public affairs director for Advocate Medical Group and Advocate Physician Partners.