Surge of flu cases prompts some hospitals to limit visitors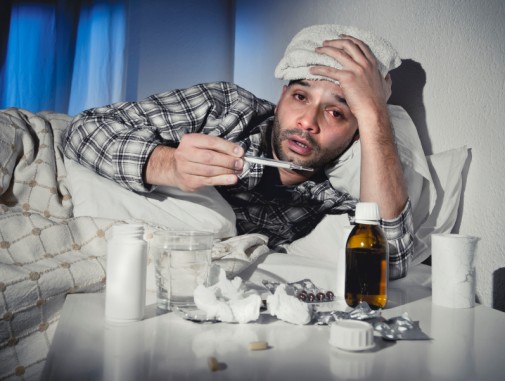 Several months into what has so far been a relatively mild flu season, health officials across the country are warning of a recent spike in flu activity.
From Texas to Pennsylvania and Arizona to Florida, local hospitals and urgent care centers are seeing an influx of patients with the illness despite the fact that peak flu season typically falls between December and February, according to the Centers for Disease Control and Prevention (CDC).
Health professionals have said the late onset may be due in part to milder temperatures this winter.
In Chicago, several area hospitals have implemented visitor restrictions on children and those exhibiting flu-like symptoms to help prevent the spread of the virus, according to a Chicago Tribune report.
Dr. Stephen Sokalski, chief of infectious disease and hospital epidemiology at Advocate Christ Medical Center in Oak Lawn, Ill., says that recent data from the Cook County Department of Public Health showing many area children are not protected from H1N1 influenza, combined with a gradual increase in flu-like illness among patients ages 17 or younger, prompted the hospital to institute extra precautions, including an age restriction on patient visitors.
"It's not always popular with patients and their families," says Dr. Sokalski. "But we felt that the only way we could adequately protect our patients was to limit visitation rights. This is a perfect example of how we at Advocate can live up to our patient safety goals."
The CDC said recently that this year's flu vaccine is one of the most effective in years, reducing the risk of influenza by 59 percent. The CDC recommends flu shots for almost everyone every year, but fewer than half of Americans have been vaccinated in each of the past two years.
For the elderly or chronically ill patients, however, a vaccine is not as effective. Their ability to be protected from viral infection is only 30 percent or less, depending on the degree of immunosuppression, says Dr. Sokalski.
"When you have family members in a nursing home or in the hospital, one of the best ways to protect them is with 'cocoon immunization,' " advises Dr. Sokalski. "Immunize everyone who will be around them – caretakers, family and visitors. For those who are very susceptible, the next best thing is to keep them from getting exposed, and you can do that by immunizing anyone who can potentially bring the virus to them."
According to the Illinois Department of Public Health, those experiencing flu symptoms should contact a physician before going to a hospital emergency department, unless those symptoms are severe, in which case patients should seek emergency medical care.
Related Posts
Comments
About the Author
Adam Mesirow, health enews managing editor, is media relations director of Advocate Aurora Health. Securing high-profile media placements for more than a decade, he loves to tell a good story. Adam earned a Bachelor's degree in Public Policy from the University of Michigan. He lives in Chicago and enjoys playing sports, reading TIME magazine and a little nonsense now and then.