Preventing poisoning in children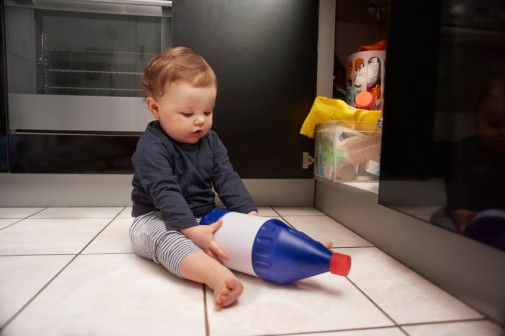 The exploratory nature of young children can prove to be dangerous, and even deadly, if poisonous items like household cleaners and medications are easily accessible. Toddlers, who first learn by touching and tasting, instinctively put things in their mouth out of curiosity. Unable to read labels or know what is safe, a child may ingest a poisonous product because it resembles candy or juice.
Alix McNulty, an injury prevention coordinator at Advocate Children's Hospital in Oak Lawn, Ill., cautions parents to be mindful of the following products that can be mistaken for food or drink.
| | |
| --- | --- |
| Poisonous Product | Looks Like |
| Windex | Blue Gatorade |
| Pine-sol | Apple juice |
| Mothballs | Marshmallows |
| Ex-lax laxatives | Hershey chocolate bar |
| Flavored cold medicines | Juice |
| Nicotine chewing gum | Regular chewing gum |
| Gummy vitamins | Gummy bear candy |
"The effects of poison ingestion range from an upset stomach to respiratory distress to death in severe cases," explains McNulty. "If you know your child ingested a poison, call Poison Control right away. They will provide step-by-step instructions, based on the product or medication the child consumed. If you suspect your child got into something they shouldn't have but there's no evidence, immediately take them to the nearest emergency room."
In 2014, the Illinois Poison Center handled more than 72,000 calls to treat someone exposed to a potentially harmful substance. Almost half of those calls involved children ages 5 and younger.
McNulty says parents can protect their children and prevent accidental poisonings with the following precautions:
Look at your house through the eyes of a child. Toddlers are often eye-level with cleaning products that are stored on the floor or in low cabinets easily opened. Examine each room in the house to see what items are within a child's reach that they might find attractive.
Move dangerous products up high and out of sight. Keep toxic cleaners and medicines in a cabinet where a child cannot reach or see what's inside.
Know Poison Control's help number. Put the number to Poison Control (1.800.222.1222) in your mobile phone, and display it on or near every landline. They are a valuable resource to parents and caregivers in case of an emergency.
Dr. Nina Muhammad, an emergency room physician at Advocate Children's Hospital, adds that in case of an emergency that involves chemicals, caregivers should remove further exposure risk, such as removing soiled clothing and irrigating (flushing) skin or eyes, while seeking care or calling Poison Control.
She also encourages parents or guardians to address poison prevention with all of their child's caregivers.
"Give grandparents and babysitters a gentle reminder that they need to poison-proof their house and be aware of dangerous products that should not be left around children," says Dr. Muhammad. "Parents should also always remind caregivers or guests in their home to store handbags out of sight and reach from young children. Many people keep medications in open containers in their purse, which is easily accessible to curious toddlers who are crawling around."
Related Posts
Comments
About the Author
Julie Nakis, health enews contributor, is manager of public affairs at Advocate Children's Hospital. She earned her BA in communications from the University of Iowa – Go Hawkeyes! In her free time, she enjoys spending time with friends and family, exploring the city and cheering on the Chicago Cubs and Blackhawks.