Kids who eat two breakfasts less likely to be overweight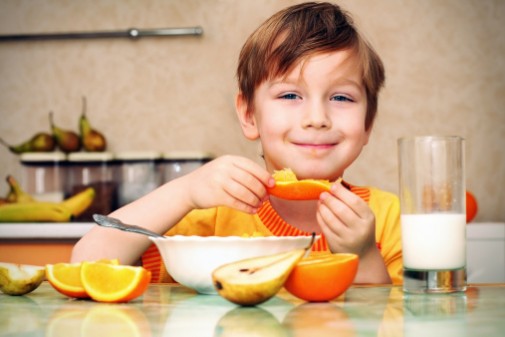 For many people, breakfast is the best meal of the day. Now, a new study shows that having more of a good thing can help ward off childhood obesity.
The study out of Yale School of Public Health and the University of Connecticut reveals that kids who eat two breakfasts are less likely to become overweight than children who regularly skip a morning meal.
The researchers followed 584 urban middle school students from schools that serve free breakfast and lunch, onsite. They monitored the kids' breakfast patterns, as well as where they ate their early meals.
The findings show that students who didn't eat breakfast or had irregular breakfast-eating patterns had more than two times the risk of being overweight or obese than those who ate breakfast at home or at school.
Notably, the data also showed that the weight changes of the kids (about one in every 10) who "double dipped" by eating at home and school were no different than those measured for all of the other students.
According to the Food Research and Action Center, an advocacy group, most U.S. public schools participate in the federal school breakfast program, but millions of children who are eligible for free or reduced-price breakfasts at school are not eating it.
"This builds on the existing research that shows eating breakfast is linked to better school performance, better overall health, and healthy body weight for kids," says Dr. Yazen Joudeh, a pediatric and obesity medicine specialist on staff at Advocate South Suburban Hospital in Hazel Crest, Ill. and Advocate Children's Hospital in Oak Lawn, Ill. "And, it would seem that these results might help alleviate concerns about possible unhealthy weight gain for some kids who receive breakfasts provided by schools."
Though prior studies have found that skipping breakfast is associated with weight problems, Dr. Joudeh says that it isn't completely clear why the two appear to be linked.
He says that some people think that people who skip breakfast are so hungry that they eat more later on, or choose less healthy options. Or, he says, kids who skip breakfast may be less likely to be physically active throughout the day, thereby reducing calories burned.
"Breakfast can help stave off the 'starvation effect,' in which metabolism is thought to slow down when people skip meals," says Dr. Joudeh. "Perhaps there is a lot of truth to the adage 'breakfast is the most important meal of the day.'"
"If schools can facilitate reasonable healthy options, and there has been a growing push for this," he adds, "we can continue to improve children's health."
Related Posts
Comments
About the Author
Nate Llewellyn, health enews contributor, is a manager of public affairs at Advocate Medical Group. Nate began his career as a journalist and builds daily on his nearly 20 years of writing experience. He spends most of his free time following his wife to their two sons' various activities.