Smoking around your child could affect their health forever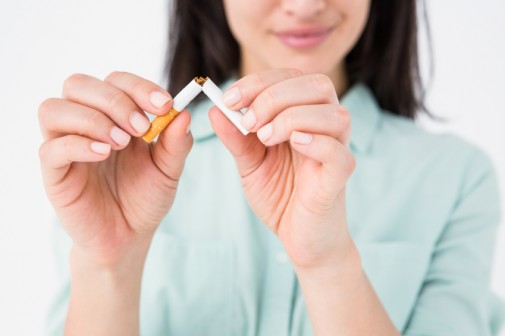 According to a new study, a mother's smoking can affect her child's health for the rest of their life.
The long-running study, which followed participants for nearly 50 years, found that children who were exposed to a mother's smoking habits were nearly three times more likely to develop chronic obstructive pulmonary disease (COPD).
According to the National Institutes of Health, COPD is a progressive disease that gets worse over time and makes it hard to breath. The leading cause of COPD is cigarette smoking.
The study measured more than 8,000 seven-year-olds and the amount of cigarettes they were exposed to from their parents. Children with both parents who were considered heavy smokers could be exposed to at least 40 cigarettes in one day.
However, the study shows that there is no correlation between how much the father smoked and the likelihood of children being diagnosed with COPD in their adult years. On the other hand, if the mother smoked more than 20 cigarettes per day, the chance of lung complications in middle age were increased three to four times for the children.
COPD is the third leading cause of death, according to the National Institutes of Health. It is not, however, the only side effect of smoking. Many other health problems have been shown to result from smoking, which is also the greatest contributor to lung cancer.
Today, technology including the Low Dose Screening CT is now able to measure the effects of smoking, especially related to lung complications including lung cancer.  The effectiveness of new technologies also increases awareness of prevention tools.
"Greater understanding of valuable lung cancer screening tools such as Low Dose Screening CT would go a long way to greater awareness around the deleterious effects of secondhand smoking," says Dr. Kevin Kirshenbaum, a radiologist at Advocate Good Shepherd Hospital in Barrington, Ill. "Much in the way that mammography has had a similar impact of breast cancer awareness. Both screening exams have been shown to reduce deaths related to lung and breast cancer respectively."
Related Posts
Comments
About the Author
Liz Donofrio, health enews contributor, is a marketing specialist at Advocate Health Care. As a newlywed, she is happy to be done planning her wedding and enjoying spending time with her husband and new extended family. In her free time, you can find Liz cooking new tasty recipes for her family, attending Chicago sporting events and chasing after her shih tzu-yorkie, Buttons.