4 tips to get your kids moving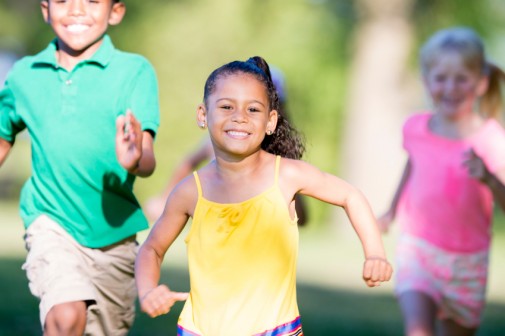 It's probably not a big surprise that the majority of children aren't meeting the national guidelines for physical activity. What might be a surprise is that kids are falling well short of this target.
A recent study found only 15 percent of kids achieved 60 minutes of moderate-to-vigorous physical activity per day. Only eight percent of children met the National Academies of Sciences, Engineering and Medicine recommendations – that 30 minutes of this activity should occur during the school day.
An interesting finding of the study, which was conducted by Tufts University, is that girls are more likely to fall short of the suggested activity guidelines.
Unsurprisingly, researchers also found that compared to normal or underweight children, overweight and obese children were less active overall and achieved fewer minutes of physical activity during school, out-of-school and on weekends.
Dr. Vipul Singla, a pediatrician on staff at Advocate Children's Hospital in Park Ridge, Ill., believes that by seeking out activities they enjoy, kids are more likely to stay physically active.
"Not everyone likes sports, and often, we think of sports as the only option for physical activity. Biking, walking your dog, roller skating or blading are all great ways to be active," says Dr. Singla. "If we can make an activity enjoyable for our kids, then it doesn't have to be something that is forced."
Dr. Singla also points out that physical activity is just one piece of the puzzle. "As kids become more active, staying properly hydrated and getting enough rest is important for them to be at their best," he says. "As they are growing and their bodies are developing, doing the little things is the basis for their health and well-being into the future."
Dr. Singla likes to challenge his patients to disconnect from their phones. He's a realist, so he understands that we live in a digital world and screens are everywhere. He even admits that he's guilty of spending too much time on his phone or at his computer, but he urges parents to be better role models to their kids.
"When we are overly connected, we create unnecessary stress and miss some of life's most interesting and exciting moments," warns Dr. Singla. "This is a choice we make, and we have the opportunity to disconnect from our screens and go out and enjoy the world… especially now that the weather is finally starting to change,"
Check out Dr. Singla's tips for encouraging children to lead healthier lives:
Make time for activity. Parents want their kids to succeed and, understandably, schedule lots of study time, music classes and other extracurricular activities, but often don't do the same with exercise. Help them make time for physical activity by planning it.
Turn off the screen(s). Kids are being inundated with screen time from a very young age. As a parent, the popular cartoon Peppa Pig can provide a great distraction, but mom and dad shouldn't become dependent on those screens to serve as part-time sitters. The American Academy of Pediatrics recommends children and teens should engage with entertainment media for no more than one or two hours per day, and that should be high-quality content.
Lead by example. Children who see their parents being active are more likely to follow in their footsteps. If kids see that sports and physical activity can be fun, they are more likely to participate themselves. It's also a good idea to play sports and be active with your child. By helping them learn a new sport, you are encouraging and promoting activity.
Give the gift of activity. For birthdays and holidays, suggest that family and friends bring gifts that help encourage outdoor activities, such as balls, jump ropes and other active toys.
Related Posts
Comments
About the Author
Mickey Ramirez, health enews contributor, is the director of Brand Services. He enjoys kimchi, honesty and a room with a view. He claims to not be a writer, but he occasionally learns information that is just too important to keep to himself.